Desert Island Dinners: Lizzie's choices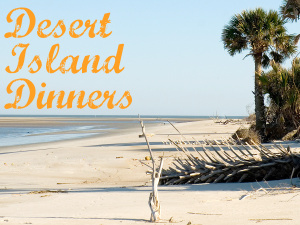 Lizzie from Lizzie's Home World is the next victim castaway for Desert Island Dinners.
A frugal/simple living version of "Desert Island Discs", every week I pry into the culinary secrets of someone from frugal/simple living-osphere.
Here's the full premise if you've missed it:
You're about to become a castaway on a desert island. The desert island will provide you with misc edible vegetation/wildlife and items that can be fashioned into basic pots/pans/utensils — but just before you're whisked away, you have enough time to grab a herb or spice from your store cupboard; a special kitchen gadget/tool/utensil or piece of equipment; a cookbook; and a packet of seeds to grow on your any-climate island paradise. What would you pick to take with you? And which of your simple/frugal living skills do you think would be the most valuable while you're there, and why?
And here are Lizzie's answers:
Herb/Spice At home top spices are cumin and coriander for a taste of the East, oregano and basil for when we are heading to the Med. Plus of course we love garlic and ginger. I would like to take all of these but if its down to one then it has to be crushed, dried chillies. We eat a lot of hot food and crushed chillies just add an extra bit of depth whenever it is used. I am assuming we would find plenty of vegetable options on our island and maybe eggs and meat, crushed chillies could just bring those tastes up a notch or two.
Gadget Although I do have a few gadgets like my rice cooker and garlic press I can manage most things with pans and a knife. For crushing coriander and other spices then I would need my pestle & mortar but if I am without my spices then it doesn't have a use. Living in Greece for few years, in one room as we were really just travellers, i learnt to go without most equipment. I can drain pans without sieve or colander, i can crush garlic with a knife or if it needs to be really creamy then using the bottle of a wine bottle and a saucer. If I have a knife already I am opting for sharpener. All food is going to be cooked from scratch, of the first catch your rabbit variety, so my knife needs to be real sharp.
Cookbook Most ingredients wont be available to me so anything too indulgent would be a waste. I think it would have to be something from Hugh Fearnley-Whittingstall (aka, Hugh Fearlessly Eat it all) as he would know how to deal with anything. I am going with Hugh's River Cottage Meat Book.
Seeds Opting for oregano here as its job will be to potentially bring flavour to a lot of unfamiliar ingredients. I went through all sorts of options but everything I wanted was too complex like raspberry canes, onion set, seed potatoes. I have decided to stay simple and make it manageable.
Skill My main skill would be ability to deal with adversity without being unhappy. I have knife skills and mostly cook from scratch anyway. I have sewing skills (of the patch a clothes rip variety not couture level). I can make do and mend but I am betting the most useful skill is my ability to be happy and still smiling when things get bad.
Very enjoyable half an hour immersed in life on my desert island. Thank you .
No, no, thank you Lizzie! Some great answers as always – I'm a big fan of crushed dried chillis too (they pop up in most of my spicy recipes) because they're not as prone to going off as fresh chillis and don't go stale as quickly as chilli powder. I've never read anything by Hugh Fearnley-Whittingstall (or seen him on TV) but I hear lots of positive things about the various River Cottage books so I guess I should look out for them! I love Lizzie's skill choice too – dealing with adversity without getting down is a wonderful skill indeed.
Thanks again for answering the questions, Lizzie. Anyone else want to be castaway?