Mischevious chickens
After a bit of a blogging holiday, I intended to write a puntastic post about how both this blog and the garden were "springing back to life". My laziness at the end of last year – leaving lots of salad go to seed then not clearing away the pots – has meant that we've got various self-seeded leaves popping up all over the place (including some well established swiss chard plants which didn't die off during the mild winter) in addition to all the fruit bushes/trees getting their blossom on. But then (overly-dramatic music) … HENS HAPPENED: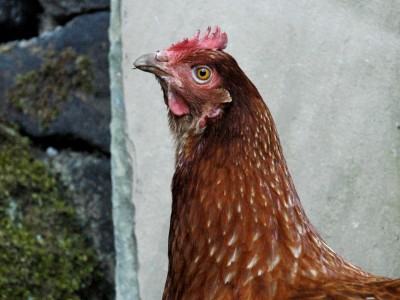 Oh hello there garden wrecker.
I thought I'd let the girls out to have a scratch about/weed the garden while I pottered in the greenhouse – sowing lots of seeds (although not as many as previous years) and potting on some other stuff: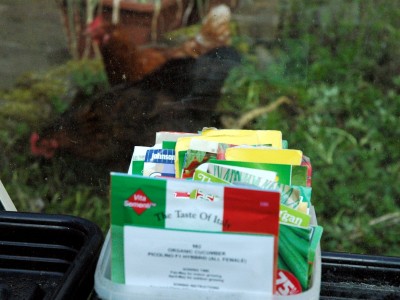 Within minutes though, those surviving swiss chard plants were reduced to this: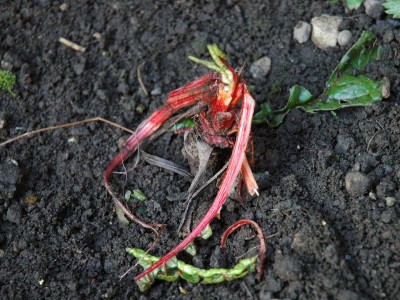 Some of the other self-seeded edibles in the lower bit of the garden were also munched, and my daffodils were duly stomped on: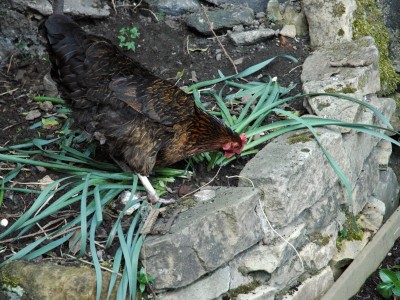 She was happy destroying them until she realised there were strawberry plants in the trough underneath that.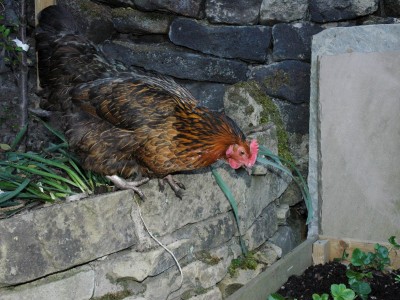 You can see her going "ooh! they'll be fun to stomp!". I don't mind about the daffodils – which weren't up to much anyway – or the general mess they cause flicking top soil everywhere but I shooed her off the strawberries. That hen, Ginger, then went over to investigate what Ms Mauve was up to: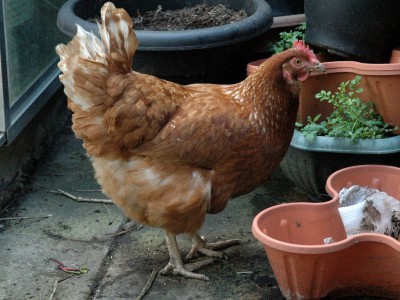 Quietly eating bittercress. I looked away for a second and heard a wing-flapping kerfuffle: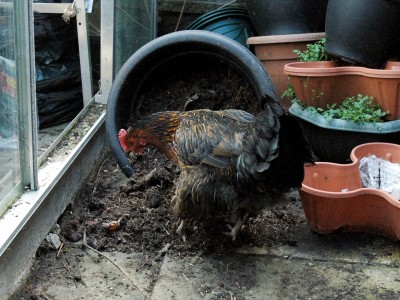 Ginger had tried to jump onto a big soil filled plant tub but it had fallen over. She, of course, took the opportunity to have a scratch through it for anything tasty before going off to cause chaos elsewhere. Elsewhere eventually turned out to be next-door-but-one's garden with her fellow Black Rock partner in crime, Blacksy — and they're the two that don't like being picked up so I had to do comedy cross-garden chicken chasing to get them back home.
Some of them are more darling though. I was sowing the last of my tomatoes (late, I know) in the greenhouse when I heard a quiet little "can I come in?" buck-buck.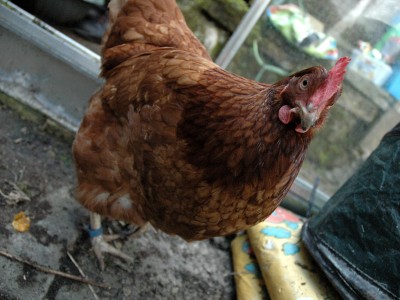 Little Blue jumped into the greenhouse and had a good look around – under the staging, on the staging, pecking at old growbags etc – all the while seemingly asking me questions: "is this your coop? where are the roost bars? where are the nest boxes? can I eat those seeds?" Very sweet. (And no, she couldn't.)