Next year's growing plans
I think this time of year may be favourite part of gardening – when I get to start making exciting plans for next year from the comfort of the sofa. Mmm, sofa.
So far, I'm planning the following – and thankfully, it doesn't look like I've have to spend too much more on new seeds.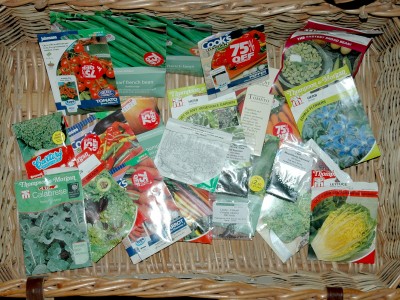 Old faithfuls:
All sorts of lettuce including winter gem & spicy leaves – all leftover seed & seeds bought in a 75% sale off
Broad beans – some saved seed, some leftover seed
French beans – some saved seeds, some sale seeds
Pumpkins a go go – I seem to have four different types of pumpkin seeds, bought in various mega-discount sales – not sure I'll grow them all
Courgettes & marrow – some saved seed and some new
Chillis – super hot birds eye ones and cooler jalapeno types – leftover and sale seeds
Carrots – sale seed, bought 75% off
Misc brassicas – try broccoli, kale & cabbage again, maybe not cauliflower. Got leftover seed for all
Leeks & onions – leftover seeds
Tomatoes – some saved seeds, some new sale seeds
Swiss chard – leftover seeds
Potatoes – will have to buy some new seed potatoes, probably go for salad ones
Herbs – old and new:
Borage – leftover seed and I suspect we might get a few plants from self-seeding too
Tarragon & Oregano – might be able to coax a couple of plants through winter…
Mint, Rosemary and Lavender – existing plants should survive
Sage – new seeds bought in 50% off sale
Meadow-sweet – new seeds, tempted to try use them, and some other wild flowers, for a bit of guerilla gardening in the local environs…
Basil – need new seeds by the look of it
Comfrey – a little amount for green manuring, sale seeds
Cat nip – existing seeds, existing cats
New exciting things!
Cucumber – not sure why I didn't do them this year, seed bought on sale will be grown next year!
Apples & pears – trees en route, might get a little fruit next year
Strawberries – since I don't do fruit, I've not grown any but John is interested in strawberries and mmm, strawberry jam. Need to buy seeds/plants.
Scotch Bonnet peppers – more hot hot chillis. Need to buy seeds.
Extra exciting maybes!
Achocha – if I get organised enough to buy some seeds
Asparagus – ditto substituting "seeds" for "crowns"
Some sort of berry thing to grow in a planter – maybe cranberry or lingonberry – need to decide & buy
Mushrooms – we've got the space, shade and wood, so we might as well try to grow some deliberately rather than just letting nature take its course. I'm thinking maybe oyster mushrooms.
What are you planning to grow next year? Anything new?
Is there something I've missed off my list that you think I should definitely try?