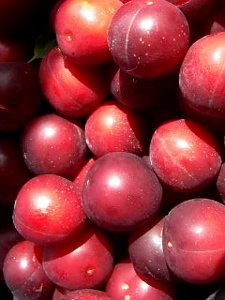 So last week, we went fishing for fruit on the mystery fruit tree outside our kitchen window. We collected 5.5kg of the plum-ish fruit, probably sacrificed as much the floor gods, and there is still a fair bit up there (albeit not terribly accessible). We're not sure if they're wild plum or cherry plum as everyone seems to have different opinions on what constitutes one or the other. Whatever they're called, they're very tart but also very sweet.
John wanted to try making plum wine (more on that another time) so I only commandeered 2kg of the harvest for our first batch of plum jam. (I'll do another smaller jamming once he's decided how much wine he is making tonight.)
The recipe calls for preserving sugar but granulated sugar would work just as well – preserving sugar is more expensive but the bigger crystals result in a clearer jelly. You don't need jam sugar (sugar with added pectin) as there should already be enough pectin in the fruit.
UPDATE: Just a quick note to say that in 2011, I added a few drops of vanilla essence to the jam and it added a lovely round flavour. I can't remember exactly how much or when (I think it was after the sugar so it wouldn't be cooking too long, but wanted to mention it anyway, because it was delicious :)
Wild plum/Cherry plum jam recipe
Ingredients
2kg of ripe wild plums or cherry plums
1/2 pint of water
1.5kg of preserving sugar (or slightly more if you want it sweeter)
The juice of a lemon/liquid pectin if needed
Jars (we misc old food ones – it probably fills about 6 x standard 450g/16oz jars, but have a seventh on standby just in case)
Waxed paper discs
Read More