More scrap wood planters
These are WIPs rather than finished articles but I wanted to mention them anyway because it's pretty much all I achieved over the weekend – I had a nice quiet weekend, just not as productive as normal.
On Friday afternoon, I had that "I must make!!" craving so I went to hunt around in the (supposedly for burning) wood store for scraps to planters – I found 30 plank offcuts, roughly the same length (about 25cm/10ins) and width (13cm/5ins) and 12 batten offcuts, about 15mmx30mm. I'd intended to make another long trough but I realised those pieces would make three 25cm/10inch-cubed planters without having to saw anything at all – win!
(I don't mind sawing now that we have a decent saw that treats everything like butter – but I like to avoid it whenever I can because I'm lazy and always end up with wonky cuts :) )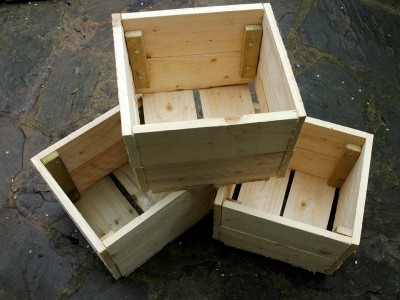 As with the other planters I've made, these aren't exactly working examples of right angles or beautiful to look at but they'll do. They're finished in terms of building but the planks were all untreated and while I'll line the inside anyway, I think I'm going to have to treat or paint the outside to make them more weather resistant. As we're painting the bathroom soon, we should have some paint leftover from that which I can use.
The other planter I started yesterday afternoon before I had to rush off to a not-great dress rehearsal. I went down to the bottom of the garden to look for pallets (to make a vertical planter like the one Emma suggested) but the only ones down there are too big/heavy – but I did find some old, weathered fence boards/paling, which John's dad had salvaged & brought over at some point, so I decided to make another long trough planter from them. I've made up the long sides – using a salvaged/scrap 2by4 cut into quarters for the corner supports/feet – but haven't attached the short sides or base yet. It's going to be 120cm/4ft by 60cm/2ft when it's finished so I might end up removing the feet and resting the base on the floor so it doesn't have to be strong enough to support all that weight. I'm going to enlist John's help with fixing on the sides – I'm hoping that two of us working together can actually get the angles square for a change!
While I was doing that yesterday, John was at his mum and dad's house for lunch and his dad excitedly told him about his latest find for us — apparently the sawmill/joinery place he gets a lot of offcuts from had some 5m (16ft) lengths of decking going begging this week – salvaged from a replacement job or something. According to John, his dad now has a crazy idea for us to make some 5m long planters – that might be a little nuts! Perhaps I should work on my sawing skills after all…