Freezing courgette/marrow flowers
We love having marrow flower fritters for lunch at this time of year. Made with eggs, courgettes & marrow flowers from the garden, and served with homegrown salad, they're very low in terms of food miles – and they're easy & super tasty to boot.
But at the moment, our 13 (gulp!) courgette plants are cranking out more flowers than we can sensibly use – so I freeze them.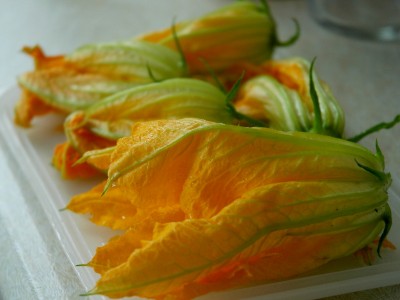 The petals are torn up for the fritters but I think it's better to freeze them whole so they don't clump together too much. I treat them like soft fruit – I wash the flowers then spread them out individually on trays before putting them in the freezer. A few hours later (well, probably sooner but I leave them that long), they are frozen solid and can be bagged up for longer term storage.
Because they're so delicate, they don't take long to defrost at all – we lift out the half dozen or so we need at a time, and leave them on the side while were gathering/mixing the rest of the ingredients. By the time the flour & eggs are mixed and the courgette chopped and added, they're ready to go.
I don't keep them in the freezer for months and months but they'll certainly be fine for a few weeks, by which point our fresh supply may be waning slightly.
Do you eat marrow (summer squash) flowers? What do you do with them? We've got so many that I wouldn't mind a few more recipes! :)