"Value" or "Taste the Difference"?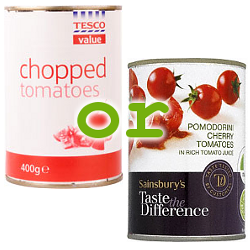 This month's Which magazine* includes a section about supermarket food prices (apparently 57% of people are looking for reduced price food more now than they were a year ago, and 60% are using offers more – but 43% think most supermarket promotions are on unhealthy food) and an article about whether we should pick the value version, the standard one or the premium brand of various food products.
The Which people compared the prices and made relevant ingredient comparisons (eg, the amount of meat in a lasagne ready meal) between each of the different levels, and also did taste tests.
I obviously won't type out the whole article here but they did recommend the budget option for: butter, natural (not fruit) yogurt, frozen peas, spaghetti and for use when cooking stews etc, carrots, frozen fish, cheddar cheese, kidney beans and tinned tomatoes.
And they suggested the following premium products were worth splashing out on: bacon (less water), beef mince (less fat), sausages (less bulking agents), ham (less water/additives) and ready-meal quiche. They added that you should go premium or at least standard on teabags, fruit yogurts, cornflakes and ready meals like lasagne.
Funnily enough, this roughly matches where we spend our money – John has a thing about expensive bacon & sausages but we're happy with cheap yoghurt and butter, and use budget carrots and cheese for cooking.
One thing I'd possibly disagree on is the tomatoes: I find the cheapest ones tend to include a lot of "stalk" ends (not a problem in a curry, more of a problem in a quick sauce) and more citric acid & other acidic preservatives (John has an intolerance to lots of acids like that), so we tend to go for standard or premium ones if they're on offer so as cheap as standard.
Aside from the things they looked at, I often buy value plain flour for basic baking (especially for dusting) and in the non-food sphere, the cleaning products I buy (including washing powder) tend to be the basic range too. Back in the day, when we used to buy them frequently, I also used to rate value oven chips over branded ones. We also buy a lot of super cheap brand stuff – the cost equivalent of value brands, just not from the major supermarkets – like rice, vegetable oil and pickled vegetables or chutneys (mostly from shops specialising in Asian or Mediterranean food stuffs).
Having said that, a peek into our cupboards to "research" this post showed me that by far the most common label is Morrisons standard own brand. I know from experience that most things were bought on offer so they'd have been cheaper or about equal to the budget brands – but bearing in mind Which's findings, I think we could swap to budget in a few more areas.
What do you think? Do you always go for one product class or mix and match for different things? Do you actually prefer the value option of anything? And is there anything you always pick premium for?
I would love to hear people's value product recommendations – and ones where the extra money really is worth it for premium!
* I don't buy Which magazine, or any magazines, regularly but signed up for a subscription in June when we were buying a few things for the house. I don't swear by Which but lacking any other up-to-date information sources, we thought it was worth at least checking out. I like that Which is about buying quality items that will last; I dislike that it promotes consumption, often in the form of gadgets – whenever John & I read it, we both feel "well, maybe I do need a new camera…" pangs. Baaaaaaaad.