Super easy blackberry jam recipe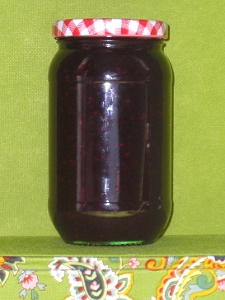 I love cooking but I have a surprisingly low tolerance for faff – particularly faff involving large quantities of sticky substances that need to sit for a long amount of time. I'm also very clumsy, live with an equally clumsy boy, and have less than graceful pets. In other words, preserves that involve the use of jelly bags are not for me.
Most blackberry jam recipes are more like blackberry jelly recipes – they involve straining out the juice and using that to make to the finished pulp-free seedless product. However, if you don't mind partial berries and seeds, this blackberry jam is super easy and tastes really, really good!
Super easy blackberry jam recipe
1kg of fruit – blackberries and peeled/cored apples (see note #1 below)
1kg of jam sugar (see note #2 below)
1 lemon (see note #3 below)
100ml of water

0. Prepare some jars by washing them in hot soapy water, rinsing them, then putting them in a low oven (no higher than gas mark 2/150C/300F ish) for about 20 minutes. You want them still to be warm when you're using them but they need to have cooled a bit so you can handle them.
1. Thorough wash the blackberries to remove as many seeds/bugs as possible. Manky or mouldy berries should be removed but slightly crushed and red ones are fine – the red ones contain more pectin.
2. Peel, core and dice the apple into small chunks. Half an inch/1cm square ish.
3. Juice the lemon and discover whether or not you have any tiny cuts on your fingers that you hadn't noticed until then. If you find you have some, scream in pain.
4. Put the blackberries, apples, lemon juice and water into a large, heavy bottomed saucepan. The pan needs to be at least twice the height of the contents so far so it doesn't boil over when you add the sugar. Place the pan on a medium heat and simmer for 15 minutes until the apple is squishable and the berries have started to break apart.
5. Using a potato masher (or the like), mash the mixture to squash the fruit into smaller segments. We're not aiming for a completely smooth spread but mashing will make sure, for example, the apple is evenly distributed throughout.
6. Add the sugar to the goopy fruity mix and quickly bring to the boil. Keep at a hard boil for at least 5 minutes, until the jam has reached setting point (see note #4).
7. Once the jam has reached the setting point, ladle it into your nice warm, sterilised jars. A jam funnel is very useful to stop it going everywhere – if you've not got one, improvise by cutting the top off a plastic bottle (a milk or 2ltr juice/pop bottle).
Yield
About 4lbs
Notes
Note #1: I hate recipes that say precise amounts of foraged ingredients because I rarely go out with a set of scales. For this recipe, you need between 500-800g of blackberries then just make up the rest of the kilogram with apples. 800g of blackberries gives a very berry-y jam; 500g less so but still good. Just use what you've got. (The weight of the apple should be the prepared weight.)
Note #2: Given the pectin in the apples, you could probably get away with granulated sugar here, not jam sugar (jam sugar has added pectin in it). Jam sugar results in a really sturdy jam.
Note #3: There is no note for this one, I just didn't want the lemon to feel left out of the footnotes.
Note #4: There are several ways to find the setting point of jam. The most common is to chill a saucer in the freezer then when you think the jam might be ready, dollop a little jam on the saucer. Place it back in the freezer for a minute to chill it down, then drag your finger lightly across the surface. If it wrinkles, it's ready; if it's like putting your finger through ketchup, keep boiling it for a couple of minutes and repeat until it does reach that point.
Have you made this? What did you think? I'd love to hear your thoughts!