Ponderings #1 – on pennies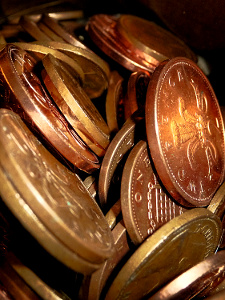 This was originally going to be a much longer post on two vaguely connected things but I think it confused the issue lumping them together, so I've split it up – pennies today, the other thing tomorrow.
A few weeks ago, there was an interesting article on Get Rich Slowly about picking up pennies. (I've linked to GRS a few times recently – the US-centric investment/credit card advice and similar that was very common when I started reading it has recently dropped off and now it's mostly just good frugal living advice.)
So this article was about why the author Donna Freedman picks up pennies from she sees them on the ground. She talks about why the "ewww, it's dirty" argument is just silly and the best places to look for spare coins, but the most interesting thing for me was when she talks about what she does with them: she saves them up in a jar and donates them to a food bank –
according to the hunger-relief charity Feeding America, $1 provides the makings for eight meals. I keep that in mind every time I pick up a penny: Another 99 of these and eight people get to have supper.
I used to pick up pennies all the time. I think I probably stopped about six years ago now, when I was still in full time employment and those pennies didn't mean that much to me any more – or rather, I knew that they'd mean more to other people. We lived in a poor estate in a poor area so it seemed to be rude for me to take them when they could make more of a difference to someone on a tight budget. I still think this is a valid point but I do like Donna's idea too – she collected $44.58 last year, which she rounded up to $50, and that provided food for 400 people: who knows how much of that money would have been picked up by someone who needed it, instead of being picked up by someone who didn't really need it, or possibly getting washed or swept away and be lost to everyone forever?
Changing the topic slightly, we've always had penny pots at home – silver ones which are plundered for bus fare all the time, copper ones that are filled and counted while watching a film on a wintery afternoon – and it surprises me when I hear that other people don't have them. At the far end of the scale, a friend of a friend THROWS AWAY ALL HIS CHANGE, as he puts it in the BIN, not in a jar for counting later or a charity bucket. He's successful in business and I imagine his reckoning is that it's not worth his time to find a jar, drop the coins in there every day and take it to his bank/Coinstar/a charity collection once a year. If he wanted to give the equivalent money to charity, he could argue that he would be better spending his time – those seconds that add up – adding value to his business, because that would probably mean he was able to donate more money in the long run. Since finding out about that, I've heard of examples of at least two people who do the same – and it had never occurred to one of them that he could collect them up rather than just THROWING MONEY AWAY. I think my capital letters show how aghast I am about this idea!
Do you pick up pennies on the street for yourself or for charity, or do you leave them where they are? Do you have a penny jar at home? Are you as shocked as I am about the people throwing money in the bin?! I'd love to hear your thoughts on this :)