Soap-making questions – can you help?
Two people have asked me soap-making questions on Twitter this afternoon and I thought I'd post them over here as well because I know that not everyone is a Twit.
Firstly, Clare of Three Beautiful Things asked:
Do you have any soap cutting tips, please? I've just bought a large block and don't want it to crumble when I slice it.
I couldn't help with this one – my soap is still a little soft when I cut it so crumbling isn't an issue. When my first batch was a bit harder, it did crumble a bit under the knife but I just accepted the rough edged soap bars and collected the crumbles for use as laundry/household soap. Any advice to avoid the crumbles in the first place though?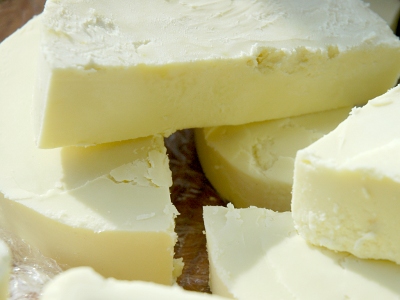 @AlisonJFews replied:
Don't know about cutting it, but need a really good soap supplies website. With the one I chose, you had to spend £25 + a time!
And again, I couldn't help! The soap I've made has always been from supermarket supplies and I've used misc things as moulds so I've not had to use any soap making supplies websites for specialist oils, fats or what-have-you.
For people like me who like to use what's easily on hand, Sharon of SmithyCraft sent us this link for working out how much lye to use – thanks Sharon.
Has anyone else got any advice/ideas for the other questions?
(By the way, this has reminded me that I've been sent a soapmaking ebook to read and review – I'll get that done this week!)