(Is it just me or does "frugal bean bag" sound like a filthy euphemism? … It's just me, isn't it?)
As I mentioned in passing last week during my quick week-off updates, I made a bean bag from some old bedding.
We wanted a fairly sizeable beanbag for the animals to sit on in front of the stove in the office. We wanted one that could be a flat mattress (since that would suit the dog best) but also be pulled up on its side to be a taller seat for us when we needed extra seating. I also wanted one that had an inner liner and a washable cover because, well, everything has to be machine washable in this house.
Perhaps I was looking in the wrong places but my my, big beanbags with liners are expensive! In shops, they were either tiny, unlined or unwashable pleather/suede, or all three. On one website, which was recommended by a friend, it was looking like I'd have to pay about £80 for a beanbag to match my wants – £80! For a bean bag!! GAH!!! So I decided to make my own.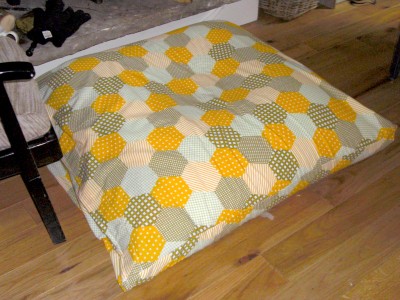 It's essentially a giant square cushion covered with a removable pillow slip case – but I've explained how I made it below.
Read More