(Is it just me or does "frugal bean bag" sound like a filthy euphemism? … It's just me, isn't it?)
As I mentioned in passing last week during my quick week-off updates, I made a bean bag from some old bedding.
We wanted a fairly sizeable beanbag for the animals to sit on in front of the stove in the office. We wanted one that could be a flat mattress (since that would suit the dog best) but also be pulled up on its side to be a taller seat for us when we needed extra seating. I also wanted one that had an inner liner and a washable cover because, well, everything has to be machine washable in this house.
Perhaps I was looking in the wrong places but my my, big beanbags with liners are expensive! In shops, they were either tiny, unlined or unwashable pleather/suede, or all three. On one website, which was recommended by a friend, it was looking like I'd have to pay about £80 for a beanbag to match my wants – £80! For a bean bag!! GAH!!! So I decided to make my own.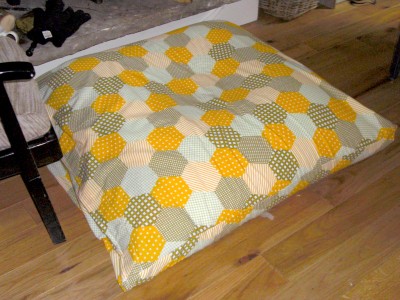 It's essentially a giant square cushion covered with a removable pillow slip case – but I've explained how I made it below.
Read More
Hurrah! My week off has started well.
Last week was a busy one – working as usual during the day, then in the evenings, Tuesday through to Sunday, I was at Bingley Little Theatre for one reason or another (mostly rehearsals/show nights for the weekend's studio productions). That ate into my fun making-and-doing time somewhat so I'm glad I've got the week off this week to catch up on fun stuff.
When I got back from the theatre at 10:30pm on Friday night, John had just started pressing some apples for cider. We had to give back the borrowed fruit press at lunchtime on Saturday so I was enlisted to help. We pressed until just after midnight then again for a couple of frantic hours on Saturday morning – got through about 40lbs of apples – about half-and-half from John's Grandma's apple tree and windfall from John B (who also provided the loan of the press). We've got 2 gallons of cider on the go now and there were a few litres left over which John's drinking as juice.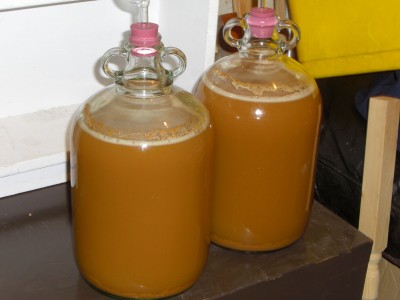 Sunday was chore day – I cleaned out the chicken coop as normal and let the girls out into the wider (not fenced in) garden for the first time too. Lime and Blue were the only ones interested in exploring and they de-weeded/scratch-scratch peeked the bed nearest to their coop. I'll definitely use them again for that before planting out time next year!
So to yesterday – my first full day off. It started slowly, stretched out in the sun with the animals and catching up on the weekend papers, but then I pickled some more eggs (this time it was garlic & pepper, recipe to follow) and tried a new bread recipe for the first time, a new dough recipe to make layered rolls. When I'm learning how to bake something new, I like to "grind" it – a video game term for doing a repetitive task over and over again to "level up" – so I'm going to make those at least every other day this week. Mmm, bread rolls.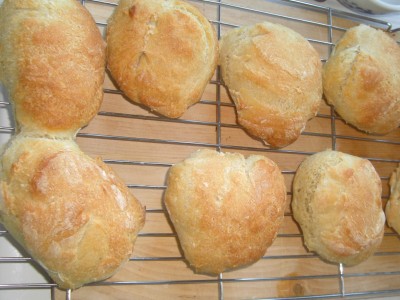 Later on, after a walk with the Lily dog, I made a giant bean bag for said hound – using a very retro-cool single duvet cover I found in a charity shop in Guiseley on Saturday. It was easy to make but I'll write a full how-to soon, mostly because I have several comedy photos of the cats and dog "helping".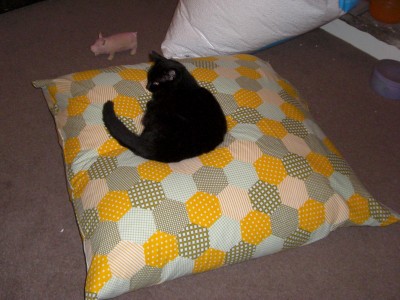 Today has had another slow start but I think it'll continue with some soup making, maybe some biscuit baking, some jamming (since we did our once-every-six-weeks shop last night and had to pull some blackberries out of the freezer to make way for half price ice cream), and since my sewing machine is out, some more stitchery. Woo!
Read More