As I mentioned in my quick round-up yesterday, we found loads of mushrooms while walking at the Chevin, Otley with Lily-dog at the weekend – lots of different types and lots of each type. Unfortunately we didn't have our mushroom identifying books with us so I had to make do with taking photos of some of them and attempting the identification later. The identifying is the most important thing for me at the moment – there are too many inedible and poisonous ones for me to want to try eating them until I'm more confident in my knowledge.
I've made some stabs at identification here – anyone got any feedback or better suggestions?
FYI, all the mushrooms here were found in the grass, but in a tree lined area so not exactly open grassland or deep dark forest. I didn't pay that much attention to the trees but it was a largely deciduous area rather than the planted pine woods around there.
Mushroom 1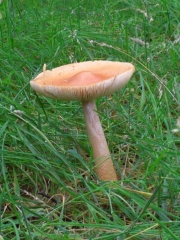 This was the first big one we saw. A light orange sombrero-shaped top with pinkish white gills underneath.
Read More