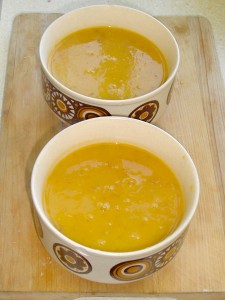 I made this spicy butternut squash soup for lunch for John, Strowger and me yesterday; Strowger liked it so much that he wanted the recipe so I thought I'd put it on here :)
For us spice fiends, it's more flavourful rather than head-exploding spicetastic – if you'd prefer the latter, just add more dried chilli flakes. The flavour comes more from the cumin & ginger than from the chilli.
If you don't have a blender or stick blender, using a potato masher to squash the … squash when it's ready. The resulting soup won't be quite as smooth but it should break down easily to give a chunky soup consistency.
Spicy Butternut Squash soup recipe
Makes: 5-6 decent size servings
Total cost: the butternut squash was £1 so probably about £1.50 in total
Ingredients
1 large onion
25g of butter
2 cloves of garlic (or 2tsp of garlic puree)
2tbsp of cumin seeds
1 large butternut squash (it weighed about 3lb before any prep)
1.5ltr of hot veg stock (ish)
2 large pinches of dried chilli flakes (add more or less depending on your spice tolerance)
2tsp of ground ginger
Black pepper
Salt (to taste)
Read More