Here's the first recipe from my preserving marathon on Tuesday: spicy marrow chutney.
With all the different spices, it's got a very full taste rather than a one-note blast of chilli heat.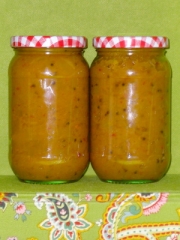 It's not the texture of either smooth jelly-like jam nor chunky like Branston — although it would be possible to make it like that – just cut the marrow a lot smaller to start with, blend the onions etc and skip the mashing stage. I did it my way because I wanted something more spreadable for sandwiches. Plus chopping up so much marrow into teeny-tiny pieces? yawn.
It'll be amazing with ham and beef.
Spicy marrow chutney recipe
Ingredients
Read More