Winter preparations now it's winter – things still to do
We've had our first snow of the winter today – quite heavy flurries but not sustained. There are few snowy patches around the garden but the sun, which is shining brightly in between the showers, is quickly turning the snow to transparent ice or melting it all together.
Or at least that looks like what's happening from up here. Even before I knew it was going to snow today, I'd decided to do the frugal thing and stay in bed for as long as possible. I'm still there now. I've got up for a few dashes around the house – feeding the animals & myself, a wee run, a delivery arriving – but other than that, I've stayed under the duvet and not had to use any form of heating for five hours and counting. (John's out at his office today, I've got all the cats & dog as mobile heaters up here with me.) I will have to get up soon to take the dog for a walk and probably won't return to bed again after that but until now, *warm*. My view has been of tree tops not trunks today: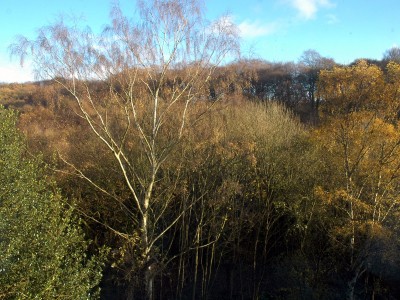 This weekend is supposed to be a very cold one. Around here (Yorkshire), it's not supposed to get above freezing at all on Saturday – and that'll be positively tropical compared to other parts of the country. It's the first time I remember it being this cold in November – the colder weather has usually waited until late December (as happened last year) or well into January or February (as is more typical). It's made me realise how far behind I am on my "things to do for winter" list… I've done some of the stuff on it – some important stuff like curtains for our office, which makes a considerable difference down there – but not other bits.

I'm going to renew my efforts to find some purposeful, usable curtains for the bedroom – eBay saved searches a go go. I'm also going to line the dining room curtains as planned. Our attic bedroom is largely off now too – we leave the doors open throughout the summer but now it's closed off and the radiator lowered.
Another few items have made it on to my to-do list. I need some warmer slippers (in progress, I've made one, I'm just not very good at making two identical things) and more thick, warm socks (which I have to admit are unlikely to made in time to be useful). I need to find my black gloves for time when my comedy mittens won't do. I need to acquire extra leg layers – we can layer our top halves quite easily but legs, not so much – I've got my long John some long johns (teehee) and I'll find some leggings/woolly tights for myself.
Away from clothes, if it's going to be frighteningly cold, we're going to have to explore chicken heating options. Apparently they're pretty good in the cold – what with their fluffy feathers and all – as long as the coop is ventilated but not draughty, and I think it is — and there is more of them to generate heat now too, but if it's really cold for prolonged periods, we might need to give the coop a little heat boost sometimes. So I'm going to look into the options for that. I'm also going to look into roofing a section of the run to provide more undercover space for them.
I did also plan to get a rug for the office – the wooden floor is the most practical option for us down there but a rug would keep us warmer underfoot – then John's dad randomly left some carpet samples/mats here a few weeks ago and we've got one each tucked under our desks now — not as pretty as a rug but they're largely hidden and fulfil the same purpose, so the rug isn't such a priority now.
Finally, I'm going to make a couple of draught excluders for around the house. I hadn't thought about them before because we've always left doors ajar for the animals to move freely but now we're closing some doors more, and I've noticed a helluva draught from the external door in the office. They'll be made by upcycling old fabric and stuffing – not decided quite what yet though.
How's your winter to-do list going? Any new additions to it now that it's getting properly cold?