Chickens in winter – still rewarding but so much more work
Sorry if this blog as got a bit one note of late – all winter! winter! winter! It's partly because I'm reluctant to post any recipes at the moment (I've got a few I want to write up but I think our oven thermostat is broken so I want to check that because saying "bake this at 230 for 30 minutes", when really it needs 10 minutes at 180) and partly because the weather is a little … in our faces at the moment.
We're not used to this. Even after our "once in 20 years" bad winter last year, we weren't really ready for this – and especially not starting so early. I know a lot of people in north America and mainland Europe have it far, far worse for far longer but if I lived in Canada or Sweden, I'd expect it and be prepared for it but we're just not used to it here. It was a balmy -6C/20F outside at noon today – it had been much, much colder overnight. I grew up on the sea-warmed coast (sunny sunny Southport) – we didn't have either hills or snow there so trudging up and down the first in 8ins of the second is a very new experience to me.
We're also not used to waking up to find these outside our kitchen window in the morning: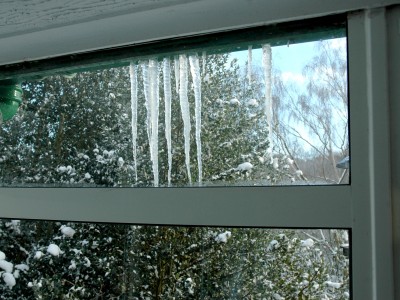 The in-need-of-filling bird feeder looks like wax has been poured on it.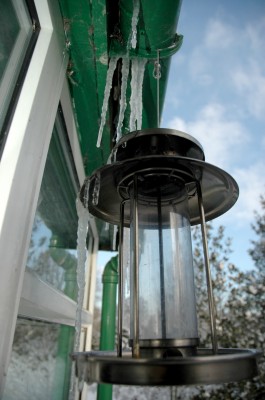 It also makes me slightly regret how much I've been urging people to get chickens because they're so easy to look after. My chicken-related workload has shot up over the last week – many many times more involved, although I guess that's because they were so little effort before.
Last weekend's big coop clean took a good three times as long – having to scrap the frozen poo off the floor – but that's not so bad – it's the daily tasks that are more time consuming.
In the morning, I have to defrost their drinkers as soon as I wake up. Sometimes that involves just using boiling water to melt the ice and top up the water levels (so it's lukewarm for them to drink). Other mornings it means carrying the drinkers back up to the house (up three flights of icy steps) to defrost the solid water and refill. And some mornings, like today, it means carrying the drinkers up to the house, defrosting them, refilling them, carrying them back down, flipping them over to hang them up, the bottom coming off, the lukewarm water going everywhere over the run floor and having to start all over again, with a nice ice rink in the run to meet me when I return – and the floor of the run was already too cold for two feet as it was.


At lunchtime, I take down more warm water, more defrosting if needs be, and in addition to the extra food and corn down at all times, I make them some layers pellet & corn porridge. I have to stay down there for a good while to make sure everyone gets something to warm them up a bit instead of the bigger ones hogging it. Later in the afternoon, I go down again to make sure they've got liquid water before bedtime and have filled up with food, then after dark, we go down to check they're all in and either on their perches or in the case of the non-perchers, bedded down together in a straw filled nest box.
It's obviously not a horrendous workload but it's considerably more than we were having to do – and I don't know how I'd fit it in if I worked away from home. I certainly wouldn't be able to check on them during the day or before they go to bed – I know chickens are pretty hardy creatures so they'd probably be ok, but all the same, I'd feel incredibly guilty if anything happened to them.
You know what though? It's not really the extra workload that the problem – it's the little annoying things that make it more difficult. Dropping that drinker of water today was annoying. This lock on the way into the run: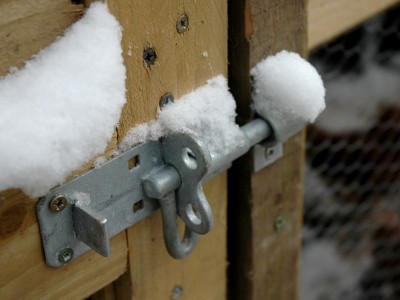 My fingers have stuck to that lock at least five times today and each time it stings to peel them off. And above it, this gate: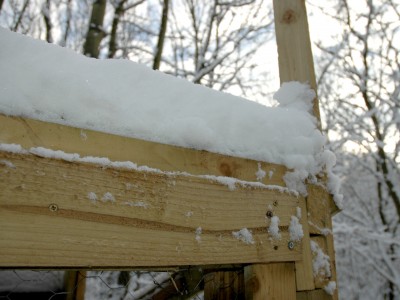 Drops a sprinkle of snow down the back of my neck every time I go in or out of the run. Brrr. (I really should clear it off but it'll only re-settle again.)
And this gate, which is from the garden into the "air lock" – the bit where we keep the food and where the nest boxes are, so we can collect eggs without going into the run itself. This gate: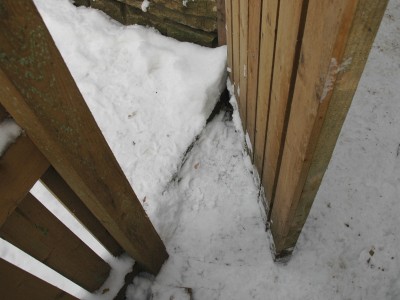 Is wedged with snow and ice so it won't open any more than this wide, which is especially annoying when I'm carrying drinkers or anything else.
Sorry to be complaining – my goal isn't to complain, it's more admit my earlier "chickens are easy peasy" comments were wrong/short-sighted.
It's certainly not all bad though. At least the chickens are in our garden so I don't have to traipse too far to get to them. They're also still delightful and hilarious when I'm down with them, and they're still providing eggs (four most days but sometimes three – still none from the new ones). And our office, we've got the stove on and it's a comparatively toasty 15C/60F — warm enough to steam up my glasses and the camera lens!