Swirly ear warmer
No more cold ears while dog walking for me – I made myself an ear warmer band from an abandoned half-finished beanie this afternoon.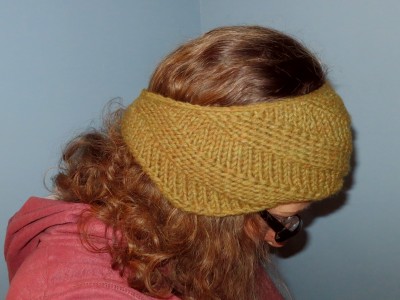 I've got an ear-flapped woolly hat for really cold days but this is small enough to fit in my pocket (for days when I'm not sure if I need it) and under my hood (for when it's raining).
I wrote a little more waffle about it on my personal stuff-and-nonsense blog – it looks brown over there, yellowy over here, it really is an odd sludge colour but if my ears are warm, I don't care ;)
Have you made yourself anything to keep the chill at bay this winter?