Chickens on a snow day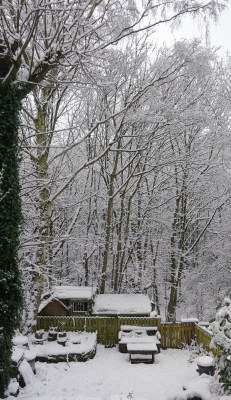 We've had some snow a week now but the "proper snow" only arrived last night. We woke up to nearly six inches on the ground – and on the greenhouse, the flower beds, the steps — on the everywhere really ;) It's still snowing now, not a blizzard but a steady fast flow.
The trees are the heaviest I've ever seen them, with some branches bent right over under the weight of their cold blanket. Every now and then – actually, specifically right then when I was writing the first half of that sentence – one reaches its limit and drops its load, or it flicks the snow back into the parent tree and more falls to the ground. It's painfully pretty.
The chicken wire roof of our chicken run has slowly grown its own snowy coating too. I thought it would be very dark under there – that the (automatic, light triggered) pop hole door wouldn't have opened and our girls would be grumpy, trapped in the coop without food or drink, but it is surprisingly light. I cleared the snow off the section nearest the path before realising about the lightness but will leave the rest for now – it's keeping the falling snow out of the run. The structure is more than strong enough to hold up for now, though I will keep an eye on it if the snow keeps falling.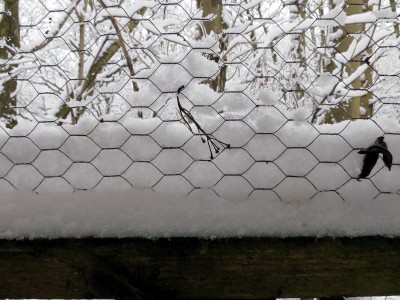 The birds are holding up well. Our three old girls were around for the harsh 2010-11 winter: if they were humans, they'd probably be going around in flip flops and t-shirts, and bragging to the new ones "cold? cold? it's not cold! It's tropical compared to when I was a pullet." (Humans say that, right?) Thankfully though, none of them is actually being tested in that way – their moults feel like ages ago now and they're all feathered up again. As if on cue: fluffy bottoms ahoy!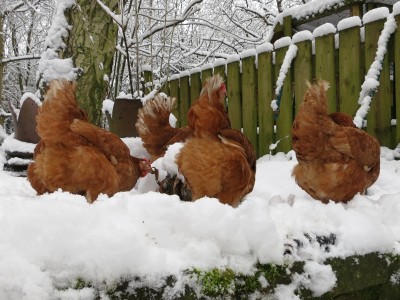 I'm making sure they're kept well fed to counter the extra energy they're putting into keeping warm – I've got a stash of their layers pellets in the house for making up a warm porridge as-and-when. Their drinkers were freezing last week but they've been ok for the last couple of days. And they're returning the well fed gesture – we had a 100% lay rate yesterday and today — really good going! I wouldn't be surprised if tomorrow is a little lower though.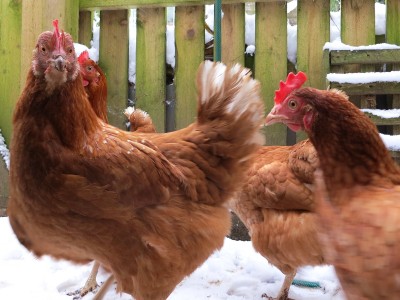 As ever, Lily-dog is carefully supervising my care of the girls – insisting on accompanying me into the garden at every opportunity and checking out the wider area around the run for ALL THE SMELLS. The cats though are happy to just watch from the window.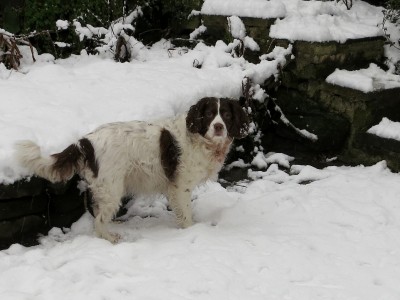 Is it snowy where you are? If you've got birds, how are they doing?