Turning a box file into a sewing kit, pff too easy
Since most of April will be taken up with dramatic shenanigans, I decided that I should try to clear some things from my "WANT TO MAKE!!!" crafty to-do list during our short break over Easter. I found five small projects that I thought I could achieve in that time, as well as wanting to finish my big project from March (a big granny square blanket) and to block & frame some of embroidery/needlework projects from over the winter.
This was my first to-do – one driven by practical need rather than just creative want.
I bought a bulk load of cotton thread off the internet last week – it worked out about 30p per 500m reel rather than about three or four times that if I was buying them individually. I got them to replenish my very rundown sewing kit – I had run out of black thread, how does that even happens?! it's like running out of teabags! – and I suspect they'll last me years and years, as my last lot did. There are far too many reels to fit in my normal little sewing kit though so I decided one of my projects should be making a new sewing box – ooh, I thought, I could felt something, or sew something, or build something or adapt a vintage vanity case or something, it'll be fun! Then after a few joyeous moments of running through the creative and fun ideas in my head, I realised a boring box file would be perfect for them.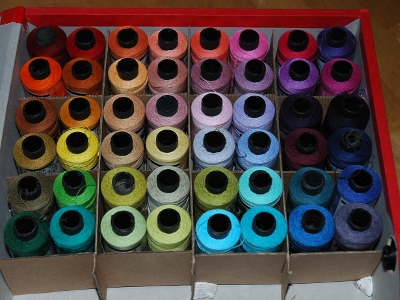 I reclaimed an old file from some even older paperwork and I made some dividers out of scrap cardboard. The most time consuming bit was deciding how to arrange the colours ;) It was almost too easy – so much for having lots of creative, fun adventures making something! At least it was a freebie though.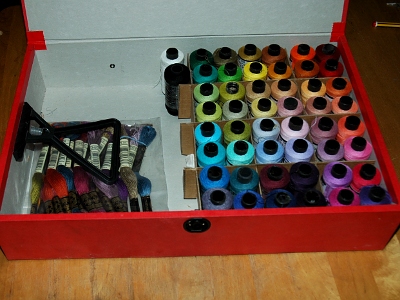 It actually works pretty well – it's easily portable and storable, and I can see all the colours in one go. The dividers, even with a bit of blu tac to stop them slipping down, aren't strong enough to hold the reels in place when it's upright and open, but they are fine when it's closed. I can store related things in the other half of the box and I'm thinking of glueing some stiff cloth to the inside of the lid to hold needles and possibly add some little elastic loops for holding other tools.
It's Day 5 of my break now and as well as a trip to Southport on Saturday, I've been doing various other things: I've doing some experimental crochet stuff (though not as much as I'd like due to sore hands, boo), some (machine) sewing on card and some embroidery. The first two haven't gone quite as well as I'd hoped but lessons learnt etc, and I guess I'd be moaning about them being too easy if they had been a success ;) The embroidery is of a row of tomato plants, heavy with fruit – wishful-thinking stitching: the snow will melt and I will be able to garden soon, I will, I will!
Have you had any time for making things recently? If so, what have you been up to?