Do it better
I've been trying to do things better recently.
It's not particularly a New Year's resolution or anything like that because it started towards the end of last year but I am going to try to stick to it all year. In 2013, I learnt a lot of new skills and as I started to see myself level up*, I wanted that to continue – and spread out to other areas. (Perhaps even blogging ;) )
I guess it started with the sewing course that I took last term – I've sewn, on and off, since childhood but I've always been a bodger. The epitome of that was the costumes I made for a drama production last summer – the craftsmanship on them was APPALLING. They only needed to be seen from a distance and if they hung together for the three performances, I would be happy. They served their purpose but it didn't exactly give me much confidence to, for example, make my own clothes. The sewing course – at the wonderful Hive Studios in Shipley – took me back to basics but showed me how to do them right, and while I still consider myself very much a beginner on the sewing machine, my lines are a lot straight, my hems neater and I have infinitely more knowledge about construction techniques and what my machine can (and can't) do.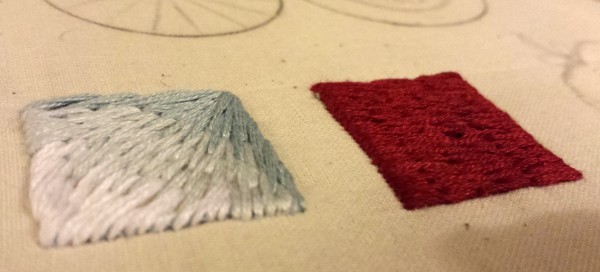 Since my decision to refocus, I've been taking the time to do basic samples of embroidery stitches simply to practise stitch lengths/angles/blending techniques (the first ones, above); my pottery** work is now slower and is gradually – in fits and starts – becoming more refined; and, my spinning has become more even and finer (while remaining strong). I've also started keeping better track of things – documenting what I'm working on (with swatches/photos as appropriate) and the tools/materials I'm using — a core learning technique but something I've never made the time to do.
Given my love of doing EVERYTHING, I'm always going to be a generalist rather than a single hobby specialist but that's no excuse for perpetually shoddy work. I think I'm enjoying the process more than I did now as well – I've always liked the crafting journey but now I'm slowly down, I think I'm getting more of a meditative pleasure from it too.
Coincidentally, this video turned up in my Pinterest stream today. He's talking specifically about writing (hence the reference to "one story") but it actually applies to any creative activity. I'm definitely in the gap with a lot of my activities but slowly, very very slowly, I'm seeing it shrinking.
* I'm already a Level 34 in Confusing Video Games with Real Life.
** I took a course at Hive last term and am doing another one now but I'm probably doing more at "drop-in" sessions. It's so much fun!