Yay, allotment!
I've wanted an allotment for about ten years.
For the first five years, I was constantly, mentally, a year or two away from moving from our house in Leeds so I didn't think it was worth getting on a waiting list, then doing all the heavy work of getting a new plot, only to move away. When we finally moved to our new house in 2009, one of my first to-do items was to get on the mammoth waiting lists over here – and only five short years later, here we are, I'm an allotmenteer!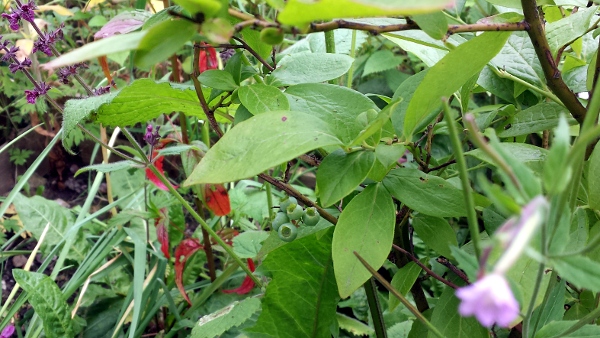 There are two allotment sites near our house and my plot is at the closer one – it's a smaller, less well-equipped site (eg, no piped water on site) but I'll be walking there most of the time and I'm lazy, so swings and roundabouts ;)
I visited the site last week for a quick look around but we got to see it properly for the first time yesterday.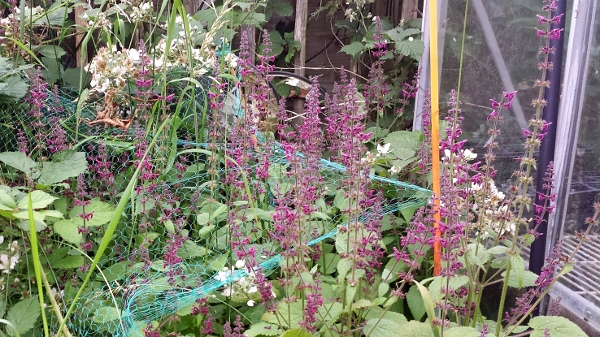 The plot itself is rather weedy & overgrown at the moment, and it's pretty small too. It is officially a full plot but based on the sizes I've seen elsewhere, I think it's closer to being a half-plot – I'm happy to start somewhere though.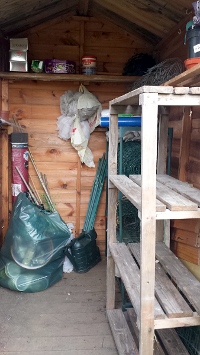 And aside from that, I've been really rather lucky – it's got both a little greenhouse and a little shed — and when we opened the little shed door for the first time, we saw that the previous holder had even left behind some useful goodies.
(Amongst other things, two sets of shelving/staging, an assortment of hand tools, some spare roofing felt (for the shed), plenty of different netting/wire trellises, and some cute metal boxes with kittens – kittens! – on them holding labels & pens.)
Poking around amongst the weeds, I also found it's got other useful things lying around – a good plastic storage chest, established compost heaps, materials for cloches, and four full water barrels (having water for this year was a major concern for me).
And what growing treasures I found amongst the weeds!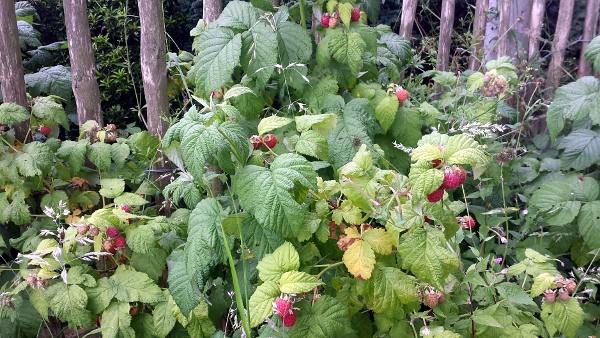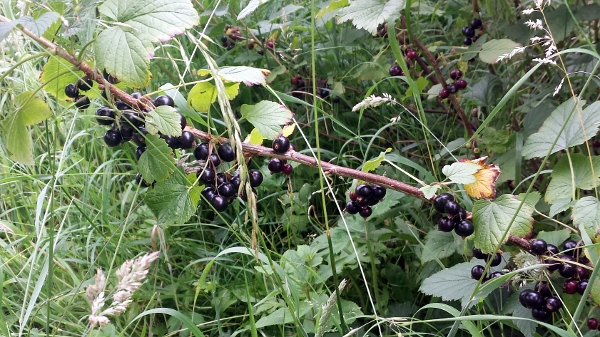 Ripe raspberries, heavily laden blackcurrant bushes, strawberries, what I think is a gooseberry bush and what I'm pretty sure is a young blueberry one (the picture at the top). They've been busy by themselves but I'm sure they'll properly thrive with a bit of love and a bit less smothering.
There is also a little tiny pond in the centre of the plot – I found that in typical-me fashion (ie, I nearly fell into it).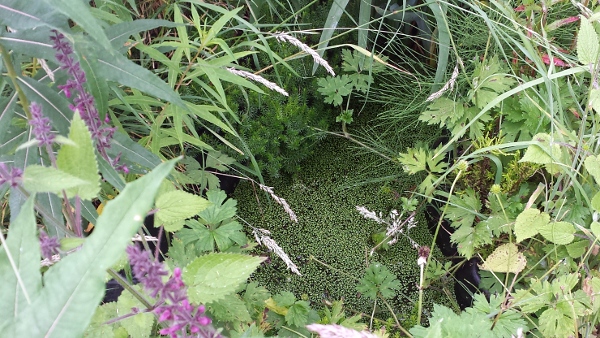 I'm going back tomorrow to start clearing the weeds. From what I could see, they seem to be "good" weeds – dock and grasses mostly rather than anything too invasive or spiky/stingy – and underneath them, there are some defined slightly raised beds. Time will tell if it's all as good as it looks!
I'm sure Lily-dog will join me for some of the day – she was already helping with weed clearing yesterday: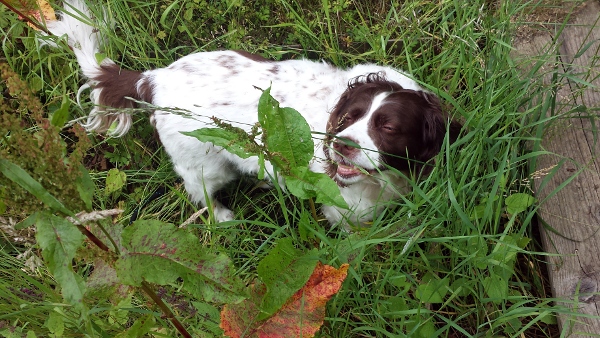 "Weed clearing? You mean you weren't just growing these grasses for me to munch? Nom nom nom!"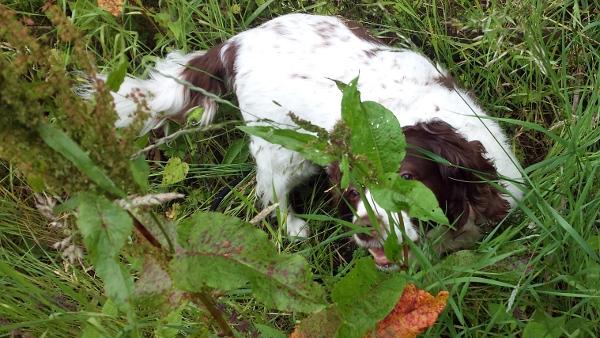 After that … well, I guess I have to get growing! Our allotment agreement stipulates that we'll have half of it cultivated/planted-up within three months. It's obviously a bit of an awkward time of year right now – too late to sow summer crops, too early for autumn sowing – but I've got some plants put by to transplant and if I can get some nice, weed-free beds sorted soon, I should be able to get some salad leaves and whatnot growing there as well. I will keep growing at home – it's useful to have things like herbs close to hand when I'm cooking – but I'm looking forward to having better beds and being able to plant in proper rows.
Exciting times!
Any other allotmenteers got any hints or tips for a newbie like me? Or anyone got any suggestions about what I could start growing at this point in the season?