Making a little more progress at the allotment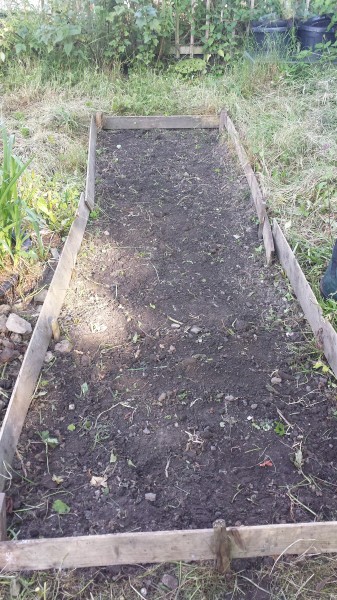 Taking Jono's advice on reclaiming overgrown allotments (do it little and often), I grabbed a sneaky hour and a half at the allotment this evening.
I'd been working at my computer all day and my John was off to his singing lesson, so I thought I'd take Lily to the allotment for a while rather than for her usual walk through the woods – and I think it worked well.
I managed to get my first bed cleared of most of its weeds, concentrating on annoying deep rooting things like dandelions and creeping buttercup (of which there is more at the allotment than I first though, but nevermind, I will conquer it, I will!). All it really needs now is a proper digging over, then I can start planting in it. (I'm tempted to plant through a weed barrier, to discourage anything I've missed from growing back.)
I also spent a bit of time clearing the weeds around the bed – I've got some new scissor shears (ones with a rotating handle) so I tried cutting a DMZ around the bed – I did it rather patchily but it's a start.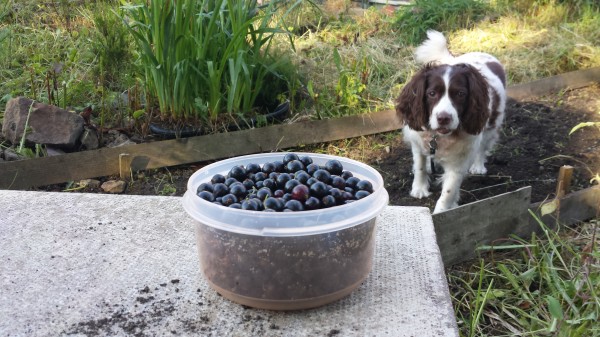 And while I was there, I also picked our first harvest from the plot – a litre of blackcurrants. There were more but my tub was full and my "helper" wanted to go for to the park for the rest of her walk, so I'll have to leave them 'til next time. (I might get another sneaky hour in tomorrow as John's doing a talk in the evening. And also I left my headphones in my shed.) My blackcurrant bushes at home are desperate to be harvested too, so I think some jam making may be on the cards for the weekend, yay! :)