My Really Good Goals for 2011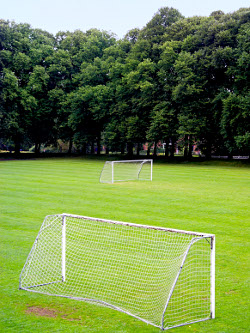 I have set myself a list of goals for the year ahead – written up on my personal blog because they're not all simple/DIY living related.
I did the same last year and found it useful – even if I did pretty much mentally abandon some mid-year. The most useful ones that weren't a specific tick-off-done goal but one's that helped shape my whole life – for example, I had a goal of "make a meal entirely out of things I've grown, raised, caught or killed" and in order to achieve that, I grew veg & herbs, raised chickens for the eggs and foraged for wild food.
My list is very simple/DIY living heavy this year! Here are the relevant ones:
Increase the food output from our garden and cook a meal using things I've grown/raised/caught/killed completely off-grid
Learn how to successfully take and propagate cuttings from every applicable type of perennial plant/shrub in the house/garden
Make a piece of furniture for the house (woodworking)
Make an entire outfit (to include conquering sewing patterns)
Go fishing in the North Sea
Buy no more than 12 items of clothing across the year*
Specific food makery and/or eatery (because if I did them all separately it would take up half the list)

Bake at least once a week
Grow a sourdough starter and make bread from it
Make a hard cheese
Try ten vegetables (or veggie wild foods) that I've not tried before
Build a cold smoking cabinet, try cold smoking more stuff & try hot smoking too

Participate more in the real world – engage more with our local community and meet some internet people in real life
(* I'm going to explain this more fully tomorrow)
There were a few things I also really, really want to try but I didn't think warranted goal status on that limited list:
Keep records to track our usage of consumables – I mean, I want to know how many toilet rolls we use in a month, how much soap, how long it takes for us to get through a 10kg bag of rice etc. I might record absolutely everything we use for a month or so, and use that hardcore exercise to decide what is worth tracking longer term
Have regular "eat only from the pantry & garden" weeks in the spring/summer, probably once a month
Have more conscious "no spend" periods – minimum fortnights, possibly months, throughout the year
Find a solution to the dog poo problem – something more useful than a cork up Lily-dog's bum. Probably a dedicated wormery.
Collect and store more rainwater for use on the garden – we can't use the main gutter at the back for rainwater but could still collect off the greenhouse, from a gutter at the front and possibly off the extension area too. To be explored and implemented.
Make my own soap – something that's been nagging at me for a little while
Make my own vinegar – for some reason, I have a really strong desire to make pineapple vinegar (probably the efficiency of using up the scraps)
UPDATED TO ADD: Make conscious efforts to reduce food waste at home – probably a period of monitoring it closely to see what we throw out (which I'll post on here) as well as better menu planning.
It seems like 2011 will be a busy one!
I'm hoping that the last goal – getting to know more people locally and meeting internet buddies in real life – will help me meet some of my other goals — I'd love to find mentors for some of my learning-new-skills goals. If you fancy mentoring me, let me know! :)
What have you got planned for 2011?