My low-spend '11: buy less than 12 items of clothing in 2011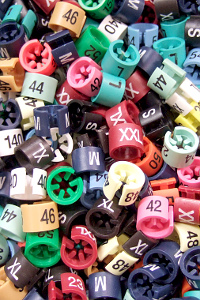 In my goals for 2011 list, I've mentioned that I'm going to limit the amount of clothes I buy in 2011. I'm not going to buy any more than 12 items of clothing in total over the year.
I could have gone for a complete ban – "no clothes in 2011" – and I know a number of people have done that, and succeeded. But my unexpected "emergency" spending (broken boiler, sick dog) during my recent no spend weeks proved something I already suspected: complete bans on spending or buying certain items are unsustainable for me.
In terms of clothes, I have a lot of them but they're nearly all extremely casual day wear – jeans, cotton tops & hoodies. Even my idea of smart is smart-very-casual – slightly neater jeans and a nicer top. If something more formal came up – a job interview, a funeral, a wedding I couldn't duck out of (and I duck out of most of them) – then I'd be stuck. I also teach teenagers one evening a week so have to have appropriate clothes for that (doesn't have to be smart but has to be, you know, non-boob-flashing decent). And I probably didn't buy more than 20 things in 2010 and I've got a cardigan in semi-regular circulation that I bought when I was 16 (big then, snug now) – so some things may need replacing. Having a ration of 12 allows me some flexibility when things are needed, or hell, just really, really wanted.
(The original goal (which I may have posted about the place and was in my goal list until last night) was that I could buy 12 new items of clothing AND 12 second-hand but I deleted the second bit because that doesn't really matter – and 12 in total is much more of a challenge.)
My goal with this limit isn't necessarily to save money – it may do but equally, I might decide to spend more on quality items than I would have done in the past – but to only spend it consciously and on things that I've properly considered. I want to have to ask myself "do I really want this? do I really need this? Is it better to buy this wear-all-the-time t-shirt or that wear-once ballgown?". It's about reducing consumption and breaking habits.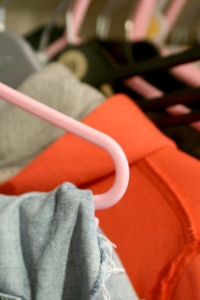 A couple of years ago, I wrote a confession on Recycle This about my almost-addiction to buying clothes. I had a bit of a hoarding tendency towards cheap clothes – if I saw something that I liked and it was officially a bargain (in a sale, charity shop or super-cheap to start with), I'd buy it because who knew when something like that would come up as cheap again? But in these days of practically-disposable clothes, something always comes along that cheap again, and again, and again. For example, I used to wear an all-black self-imposed sort-of uniform to work every day and whenever I passed a sale rack, I'd check it for black tops to add to my collection. By the time I finished working at the uni, I had about 30 black work tops, including some I'd never or rarely worn because there was a reason why they were on that sale rack.
Already when I wrote that confessional, I had improved my ways a lot and I've cut back a whole lot more since then. But I still think it would be useful to consider it more consciously – as I said above, I probably didn't buy more than 20 things in total in 2010, but that's off the top of my head now, thinking about the purchases I can remember, stuff that's now in regular circulation – who knows how many things I've forgotten because they were mistakes and got buried at the back of the wardrobe? I want to know exactly what I've bought in 2011. I want to break these habits once and for all.
As with my no spend week last month, I'm giving myself a few exceptions though:
Essential footwear – to me, some footwear is less a fashion choice and more essential health & safety gear – eg wellies, supportive trainers/boots, work boots. I think I'm all set in this department but I won't need to buy anything but I'd like it as an exception just in case. (However, if I buy non-essential footwear – like the leather boots I've been looking out for – then that'll be counted in the 12).
Essential underwear – ditto to large degree – with my gargantuan sweater cows, I need good bras for scaffolding purposes. As for knickers & socks, I tend to buy multi packs for value – that would wipe out half my allowance in one pack! Again, I think I've got enough to last out the year anyway and this exception only covers essentials – "because they're pretty" pants don't count.
Presents and other freebies – people don't tend to buy me clothes but I've had the odd geeky tshirt as a gift – seems unfair to have to include stuff in my limit if it's "forced" upon me. (I *won't* use this as a get-around – "Philip Green gave me this as a present in exchange my gift to his shop of £30" or even "John bought this for me because I wanted it" – just to cover genuine gifts.)
Stuff I make myself – another of my 11 goals for 2011 is to make my own clothes – I'm hope not having a steady stream of shop-bought items pouring in will encourage me to take to my sewing machine. I'd love it if it got to the end of the year and my wardrobe was jam-packed with new items – I'd only bought 12 things but made 20. That would be ace.
So that's it – no more than 12 items of clothing in 2011. Let's see how it goes!
Have you tried a clothes ban/strict ration before? Any hints/tips?
Anyone want to join me in this one?