Homemade dog treats: drying offal in a dehydrator
In the supermarket a couple of months ago, John noticed that the dog treats we were buying our old springer spaniel Lily cost £11 a kilogram. The prepackaged lumps of cereals, additives and mechanically recovered meat were more expensive gram for gram than cheese, steak or a nice roast. That didn't seem quite right to us.
We swapped to using cheese for a while – mostly because it kept longer than meat – but Lily wasn't that keen so we decided to try making some homemade dog treats by dehydrating some meat instead: it would last longer than cheese and wouldn't need refrigeration.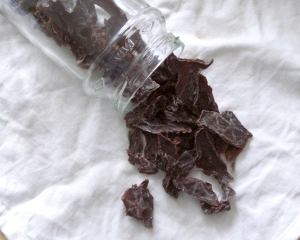 We decided to use offal partly to keep the costs down and partly because our cats *love* beef heart and we were getting some anyway to them. Ox heart is around £2 a kg at the supermarket, liver a little cheaper (£1.60ish/kg). Ox heart is usually pretty low on fat too, which is important when dehydrating.
We'd been warned that dehydrating meat can get quite … aromatic and since heart is such a strong smell/taste anyway, we decided to set up our dehydrator outside. John's dad, who was working at the other end of the garden, said he could smell it quite strongly ("it stank") but in our office, just around the corner from the dehydrator, we couldn't smell it much at all – just like cooking. It took ages though – probably 10 hours on a low heat (145F ish).
In an unusually unscientific experiment for us, we didn't weigh the meat on the way in or the jerky on the way out, but once the fattier bits had been cut away and the liver mostly set to one side because John struggled to cut it evenly, we probably used just over 1kg of meat (the offcuts were roasted for the cats) and got three large jars of jerky out the other end — probably enough treats for her for a couple of months, minimum. Next time we do it, I'll weigh in and out to calculate a cost-per-kilo for the finished product.
It doesn't look particularly yummy to us but someone doesn't mind in the slightest…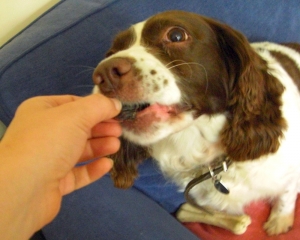 Things for us to remember for next time
As most drying tutorials explain, it's important for the meat to be a uniform thickness for even drying. Some of our bits were a little chunkier and it seems they weren't quite as dry as the rest – that jar has gone mouldy. A month or so on, the rest, the drier stuff, is fine.
However, slicing uncooked offal is difficult. Some people have suggested freezing it slightly to make it easier to work with. I also wonder if a cheese slicer would be better than a knife…
When tallying the final cost-per-kilo price, I'll include a nominal sum for the capital cost of the dehydrator. Our friend Tom extended-loaned us his dehydrator last year – if we didn't have one on hand, I think we'd have to commit to drying a lot of stuff to justify buying one and that sum needs to be included in our calculations because Tom wants it back when he stops being a contracting nomad.