Lovely Buttery Lemon Curd recipe
I mentioned on Monday that I made a batch of lemon curd while my frustrating, sticky marmalade was boiling away.
Lemon curd is far easier and more fun to make than marmalade, and oh my wow, it's delicious.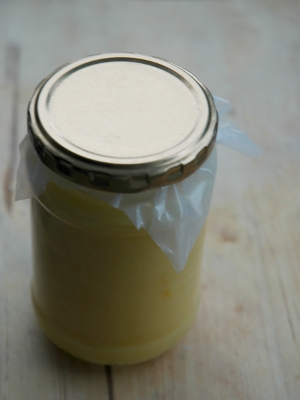 It doesn't have a long shelf life though – what with the butter and the eggs – but I don't mind having to make it regularly because it's so quick and easy that it's not a problem.
Compared to jams from foraged or grown fruit (where the only expenses are sugar, a tiny bit of spice & energy), this is expensive – lots of bought-in items. Using eggs from our own chickens, it worked out at about 70p a jar; if we'd had to buy in good eggs, it would have been about £1 a jar – not break-the-bank expensive and it is very very nice, but not the cheapest either (the blackberry jam I made last autumn worked out at about 25p a jar since the only thing I had to buy was sugar). It's a good way to use up egg gluts – something we'll have to get more proactive with now the girls are laying more.
Buttery Lemon Curd recipe
Ingredients
5 large lemons
5 medium-to-large eggs
250g of butter (!), room temperature
400g of golden caster sugar
2tsp of cornflour
Makes just under 3lbs of lovely lemon curd

Method
0. Prepare your jars: wash them in very hot soapy water then rinse them with clear water and put them in a low oven (160C/gas mark 3 max) for about 15 mins. As this recipe only takes about 20 mins max (depending on how fast you are at zesting and squeezing lemons!), it's best to prepare the jars in advance.
1. Grate the zest from the lemons into a decent sized bowl then juice the lemons (through a sieve to catch pips and pulp) into the bowl as well. Add the sugar to the juice too, and stir it through so the sugar starts to dissolve.
2. Crack the eggs into a large saucepan (doesn't have to be a stock pot or preserving pan – the heat is low and it doesn't "spit") and with the heat off, whisk them together using a big balloon whisk. If they're fresh from the garden like ours, this may take a little while!
3. Dice the butter into small cubes then add to the pan. Whisking pretty much constantly, heat the butter and eggs over a medium heat until the butter starts to melt.
4. Add the lemon & sugar mix to the pan and sieve in the 2tsp of cornflour. Continue heating & whisking for about 5-6 minutes until the mixture thickens to a curd consistency (it's pretty gloopy to start with but there is a point where it noticeably thickens).
5. Lower the heat to as low as it'll go (or if you're using a heavy pan, turn it off completely as it will stay warm enough) and continue whisking more slowly for another minute.
6. Pour into the jars and seal immediately.
7. Remember that the chef gets to lick the spoon.
Because of the eggs and the butter, it has a pretty short shelf life – most people advise keeping it in the fridge and using it within a few weeks. It's so lush that it isn't a problem to use it fast – well, it isn't a problem except for all the butter! Mmm fattening.