Some thoughts on my newly rediscovered love of crochet
After a break from crafts for a while, I've got back into crochet with a vengeance recently.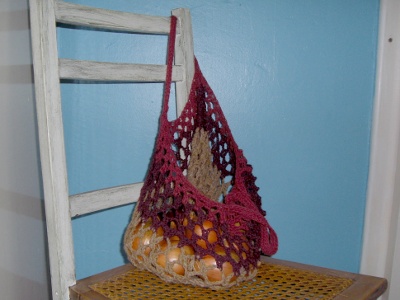 I found it hard to like crochet at first – the first tutorials I did were boring, just creating a stiff solid fabric – and it wasn't until I made a "net" shopping bag and granny squares that I saw the value of it over knitting. If I was teaching someone how to crochet, I'd start with granny squares which I'd use for the base of a "net" shopping bag/fruit bag – I liked being able to make something actually useful very quickly.
I love the many "sense of completion" moments when making granny squares or similar patches. My first big project was a hexagon hearth rug. I got a small buzz after completing each round, then each hexagon, then each colour combination set, then all the hexagons… Great motivation to keep me going. By comparison, my current stripes project (above) is very slow going and not that rewarding – it takes about 25 mins to finish each stripe and then it's only one more stripe in a blanket of a hundred (and it's even more when I do the wrong colour combination and have to frog over an hour's work). It's a nice yarn to work with though and when it's finished, it'll be lovely.
My favourite stitch is a HTC (HDC in US terms) – the ease of a DC (SC) but with extra height. Is it wrong/nerdy to have a favourite crochet stitch?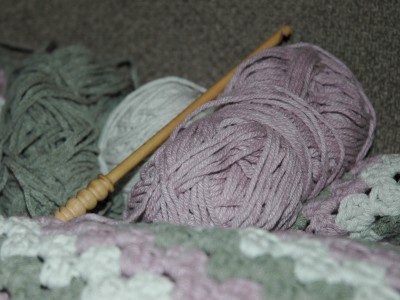 My favourite crochet hook is one I bought in Edinburgh a few years ago. It's a 5mm one so good for a lot of the yarn I tend to buy (I'm not a delicate yarn type of girl), and has some lovely wood turning on the handle. I would like to make my own set of hooks some day – turned, using stray branches & twigs from the woods behind our garden.
I find it a lot easier to experiment in crochet than I do in knitting. It seems easier to manipulate the shape both in the 2D cloth and sculpting it into 3D. The vast majority of my experiments aren't successful.
It's also a lot easier to crochet than knit on the bus – less likelihood of poking a neighbour. I like crocheting on the bus.
One of my favourite following-a-pattern things that I've crocheted is the loop baby rattle – quick but cute. I also very much enjoyed the crochetalong videos for making soft high top trainers for babies even though my finished project was a bit blocky.
I also very much like Attic 24 Lucy's granny stripe blanket – both because it's pretty and the pattern is just a few lines :) (This one was my first attempt – a smaller version, using a 100% wool yarn. I dyed the purple and blue myself – they're pretty, muted notes in real life.)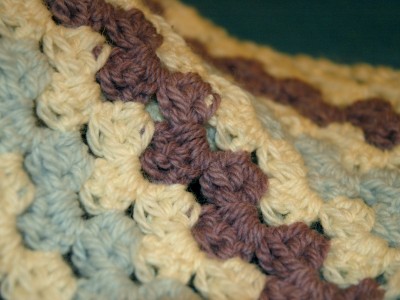 I was crocheting for so long in one unbroken stint the other day that my hand got stuck in a claw shape from holding the hook and it shook when I tried to straighten it out. More biscuit/animal stroking breaks are clearly needed!
Do you crochet? Or have you resisted the lure? If you've given into its charms, what type of things to you like to crochet – and what have you got on the go at the moment?