First post! Welcome to The Really Good Life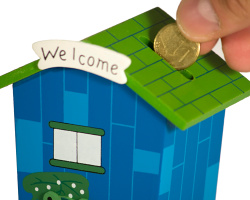 Hi, welcome to The Really Good Life. I'm Louisa and I live really well – but frugally.
I already write about reusing and recycling on my blog "How Can I Recycle This?", and about composting on my site "Can I Compost This?", as well as blogging and running other sites but I wanted a new place to talk specifically about growing, making, foraging, cooking – and living a frugal life in general.
The name of this blog was originally going to be something highfaluting and fancy but thinking about it the other day, I realised it boils down to this: I'm living a Really Good Life. Like Tom & Barbara, I live in a city (specifically squished between two industrial cities), I grow my own veg, our chickens will arrive shortly and we live cheaply & sustainable – but with tasty food & pretty things, inside of nasty homemade wine and scratchy woollen underwear.
This blog is about the journey I'm making – because it is a journey – my thoughts, my questions (that hopefully other people will be able to answer!) and where I've got some info to pass on, my recommendations & my mistakes – and I hope you enjoy it.