The year of ….
A few days ago, someone started a discussion on UK Veg Gardeners about themes for the year:
"2011 is the "Year of the Raised Bed". Last year was "Year of the Redcurrant Protector" (not a very snappy title I admit!) and 2009 "Year of the Shed" (much more successful)."
I replied that for us, 2011 is the "Year of Fruit": "to be accurate it's going to be Year Minus One of Fruit as most things won't actually produce anything until next year – but all the work has to be done this year."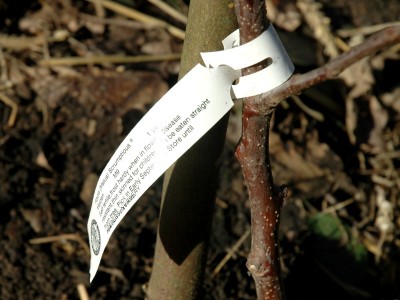 But it's actually the Year of lots of things here – I think that contradicts the point of having a "the year of" but nevermind! It's:
The Year of Fruit – six apple trees & two pear trees are in, a cherry tree to follow; also, two blackcurrant bushes, a lingonberry bush, a cranberry bush and 12 strawberry runners (all which are displaying new green growth today – hurrah!) are also in, with maybe gooseberry & raspberry to follow. Fruit a go go!
The Year of the Front Garden – those new planters should help out a lot out there
The Year of Vertical Growing – baskets & wall planters & balcony window boxes & tiers of pots
The Year of Efficient Bed Usage – some beds were empty for a long time last year; not this year!
The Year of Perennials – the fruit is part of this; I want to start getting things in that'll last so each year on, I can concentrate on other stuff
The Year of the Greenhouse – since it didn't arrive until July last year, I intend to make the most of it this year – cucumbers, chillis and tomatoes, oh my
The Year of No More Plastic Tubs – not such a catchy name but last year, when I was setting up on the cheap, I bought a lot of plastic tubs & troughs. No more from now on though, and as they need replacing, I'll do so with non-plastic options
The Year of Not Getting Overwhelmed – by planting too many of each thing specifically. But looking at the rest of this list, I think this might the hardest to achieve ;)
What's it your year of?