Birthdays – how do you do it?
Yesterday was my birthday – the big 3-1.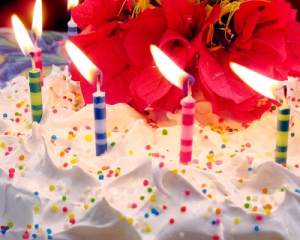 In general, I dislike special days that have been hijacked to become days of mass consumption – I don't celebrate Christmas, Easter, Valentine's day, anniversaries or anything like that, but a few years ago, when I worked six days a week, every week, all year, I decided that I'd start celebrating my birthday again as an excuse to have a very rare day off work. I actively discourage cards & presents (cards & for-the-sake-of-it presents really annoy me!) but for the last couple of years, I've tried to spend my birthday doing fun stuff: a day off work to try something – a craft, a skill – I've not done before. Last year, it was cheesemaking; this year was supposed to be cold smoking but the supplies didn't arrive and the weather was a bit too moist, so it was more cheesemaking but will be smoking stuff today (if the items arrive in the post or at the weekend – postponed birthday fun stuff).
John pretty much ignores his birthday but if his mum asks what he'd like for a present or if he'd like to go out for a meal, he asks her to cook one of his favourite meals instead. Big family meals out are compromise and too distracted/busy to actually talk to people – he'd prefer to spend the time more comfortably in their family home.
I know other frugal people who ask for gift vouchers etc for their birthday so they can buy what they want with it and/or spread the gift out by having little luxuries over a longer period.
As for giving, I much prefer to give presents throughout the year – when I see an item that I think the person will like, I get it for them then rather than hanging onto it. The one exception is my best friend Katherine – her birthday is special to her and because it's right next to Christmas, often gets overlooked – so I always make a special effort to find presents for her and also make at least one item.
Do you celebrate your birthday? What do you do to downplay the almost ubiquitous consumerism? How do you handle gifts – do you like to give/receive them? Do you discourage for-the-sake-of-it gifts, and if so, how? What about other people's birthdays, especially children – how do you handle those?