My 20 year old socks and other long-time-service clothing
Yesterday, Ilona on Life After Money was talking getting her money's worth out of things – and referred to some really old underpants she owns. It got me thinking about my elderly underwear.
I have some knickers I bought when I first started going out with John. We've been together for nearly nine years. I bought a pair of knickers with a penguin on it and another pair with a cat – the penguin ones are a little scruffy but the cat ones are still almost my favourite pants and are still in regular circulation – worn probably about once a fortnight and still going strong.
Elsewhere in my underwear drawer, I've got some slipper socks from my mid-teens (about 15 years ago – someone dropped a BNWT pair in my mum's shop and after sitting in their lost-and-found box for a while, I was the lucky recipient of them) and a pair of novelty socks that my childhood neighbour/friend Katie bought me one Christmas. I can't remember what year it was exactly when she bought them for me but I suspect it was when we were about 11 or 12 (19/20 years ago). They're getting a little bobbly and threadbare on the heel now but still wearable – and still worn regularly. I've never worked out what sort of animal is ice skating though – a brown penguin? a bear?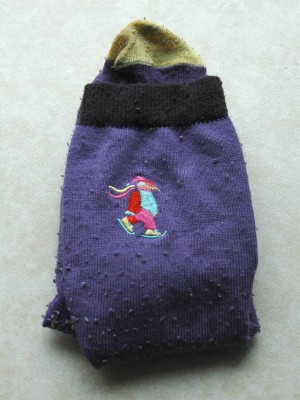 Most of my visible wardrobe is newer – because of changing styles (I'm not exactly a fashionista but my style has definitely evolved over the last couple of decades – shell suits were in style when Katie bought me those socks!) and because of changing body size – but I still wear a black wool cardigan I bought when I was 16 (and a UK size 8) even though I'm now 31 and … um, not a size 8 by any measure! I've also got a tiny sundress I bought the week of my 18th birthday which I still wear – it's bias cut so stretchy so works as a long top for underneath a jumper.
All but three of John's jumpers pre-date our relationship and he's got some t-shirts from when he was about 14 or 15 – including one that feels like silk now, it's been washed that much!
Do you have any clothes in regular circulation that are due a long-term service award?