Chocolate Coffee Mousse recipe
I stumbled upon this recipe a little while ago and it's become a favourite in the Peach household – not only is it one of the nicest, richest desserts I've ever eaten, it both uses up eggs (a good thing!) and is really pretty easy & quick to make as well.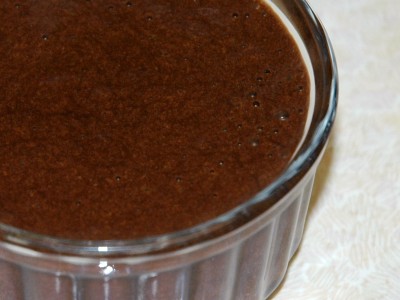 It's easy because it cheats by starting with ready-made chocolate. I've tried making it with both fancy 70% chocolate and cheaper plain stuff (I mean really cheap plain stuff – Netto, two 200g bars for £1.50) – there is a difference, the former was obviously a lot stronger and richer, but you know what? the cheaper stuff did pretty well too. The intense strong chocolate is nice but can be a bit overwhelming – I'd certainly make it again with the cheaper stuff, especially if the people eating it weren't major dark chocolate fans.
Regarding the coffee, John is a coffee snob so we have very good beans in the house pretty much all the time and he makes it using an Aeropress which apparently removes a lot of the bitterness (I don't like to drink coffee but I like it as a flavour in cakes & desserts). Since it was being mixed with other things, he didn't use his super expensive stuff but used a blend of "old" beans (admittedly no more than a few weeks old) to make the espresso. I dare say the fact it was good coffee to start with added to the flavour of the finished dessert.
Aside from that though, eggs is eggs, a little sugar is a little sugar. If the eggs are homegrown (as ours are), the only real cost is the chocolate, with an extra 20p or so for the fancy-smancy coffee. For a super rich dessert for four, I think it's pretty reasonable.
Dark Chocolate Coffee Mousse recipe
Makes enough to fill four to five ramekins
Ingredients
200g of plain chocolate
3 tbsp of freshly made espresso/strong black coffee (or more/less to taste)
4 room temperature eggs
1-2tbsp of caster sugar, depending on how sweet the chocolate is

Method
1. Break the chocolate into pieces and put it in a large bowl suspended over pan of water. Heat the water to melt the chocolate – direct heat would make the chocolate cry.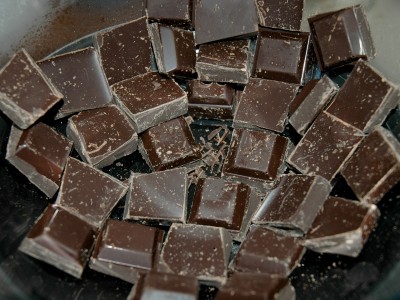 2. Once the chocolate is starting to melt, stir in the coffee. The heat of the liquid will help the chocolate melt down a little faster but not make it any easier to photograph.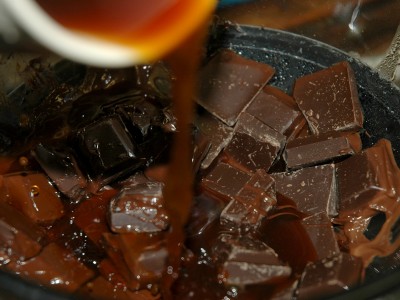 3. Keep stirring the chocolate and coffee until all the chocolate has completely melted and the coffee is well incorporated into the goo. Don't be too fast to declare it completely melted – the goo needs to be as smooth as possible so keep stirring to make sure no small lumps are left in it.
4. Remove the bowl from the pan and turn off the heat. Leave the goop on the side to cool for a moment.
5. Meanwhile, separate the yolks & whites of the eggs into two different bowls – both should be a decent size to minimise spatter when whisking!
6. Add the sugar to the egg yolks and whisk thoroughly until they're lovely and bubbly. Fold the beaten eggy goo into the now slightly cooled but still warm chocolate goo, taking care to incorporate it but not overstir it.
7. Whisk the egg whites until they're stiff and peaky, then immediately fold them into the chocolate goo too. The overstirring issue is even more important here so lift and fold rather than round'n'round. It feels like it'll never blend in smoothly but eventually it does and that moment is a joy to behold.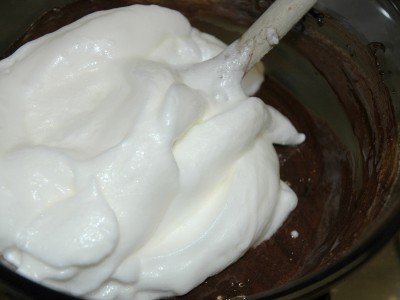 8. Once the egg whites are thoroughly folded in and the whole thing is a lovely consistent brown, pour it into ramekins or the like. (The first time I made it, I used glass coffee cups because I wanted more in fewer portions. After John couldn't face more than half of his because it was too rich – this was a 70% chocolate one – I've stuck to ramekins since then. Just use what you've got but try for about four or five portions.) Chill in the fridge for a couple of hours before eating.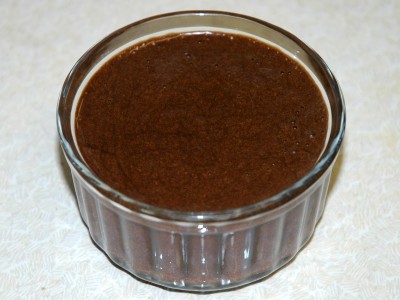 We eat it its own but it could easily be dressed up a bit with a couple of almond biscotti and a dusting of cocoa. In fact, yum! I'm going to make those next time we have it!