My first soap
I made some soap for the first time last week. It took FOREVER to trace. I wrote a blog post about that but didn't explain any more about my soap making because, well, frankly, at that point, it looked like it was going to be a big fat fail.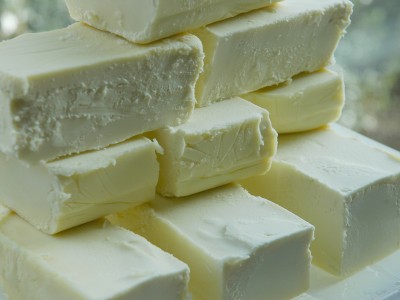 Even though it had reached what could be considered trace, it still felt very sloppy when I was pouring it into the moulds and even overnight and over the next night, it was harder but still very soft. The directions I'd read had said to take it out of the moulds after a couple of days – mine would have still blobbed all over the place at that point. But it clearly was still curing and it was more than ready to leave the moulds today – a week after it was made. (It was probably ready for tipping out by Wednesday – it was a lot paler and seemed like it would hold its shape – but I was just busy with other stuff so thought it would be better to leave it rather than rush it.)
I made two batches – I'll post the recipes & cost breakdown once I know that it is actually a success and they're good to use but for now, I'll say the first was a 100% olive oil soap, and the second was a third olive oil and two-thirds other generic veg oils/shortening — everything bought from supermarkets. As I'll explain more when I review the two soap-making books I bought, we're pretty utilitarian when it comes to our soaps – we want them to get us clean, to not be harsh & drying, and to smell alright. We want them to create minimal waste & be as frugal as possible. This is particularly important for me while I'm learning the skills – if I make a mistake, it's nothing more than a few quid and some time; if I was buying neem oil, shea butter and essential oils, I'd not only be paying more for the ingredients, I'd be paying for postage & packing too and having to wait for them to arrive too.
As expected, the 100% olive oil soap is considerably paler & already harder than the mixed oils one – the veg shortening keeps it that bit softer. Because I ended up making a lot more than I'd intended in one day, I had to get a bit more creative about the moulds than I thought I would at the start. The 100% soap used an old plastic fruit tray & an old deep oven tray as moulds.
The mixed oil one got the choicest mould – a long flat tray with a lid (from when we bought a big pack of ostrich burgers from the farmers market) – but its overflow containers weren't as suitable really – one of the square olive oil bottles and an ice cream bucket. They were more awkward to use but have resulted in interesting shaped soaps.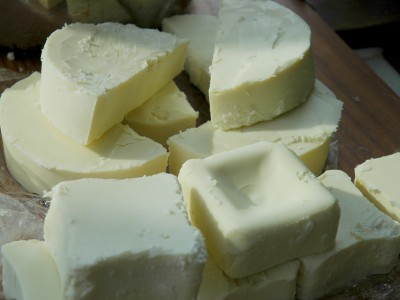 Once I'd popped everything out and cut it to size, I thought "I'll put this in the airing cupboard to keep curing and drying for the next few weeks". Then I had a "doh!" moment – the airing cupboard got pulled out by our bathroom refitters on Monday! I hadn't acted quick enough to keep the racks I'd made which would have been perfect as drying racks (I did though save the cupboard doors – one of which I used as a chopping board for the soap, and the others will make a raised bed). So anyway, I needed something to use for drying racks so yet again, I raided the scrap wood store and twenty minutes later: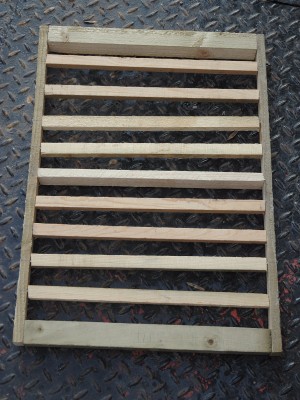 A drying rack! It's a very rough & ready job, done without any measuring hence the slats being a bit wonky, but it'll do fine for this purpose.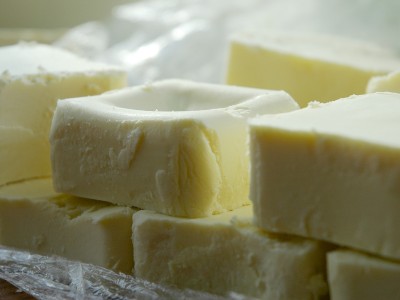 Now the soap is on the new rack drying in the attic room. I guess I shouldn't declare it a resounding success just yet until it's finished and we can try it, but after a few days of foreboding failure, it looks a lot more hopeful now!