Buff's first egg!
You know the other day when I was huffing and puffing about whether I thought Buff, our Leghorn chicken, was possibly a boy? Turns out all the worry was for nought. Look what I found in the nest box this morning: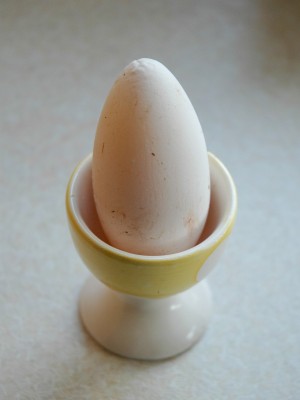 (For those pedantic funny funny people: no, she didn't lay the egg cup as well ;) )
As you can see from the diameter of the egg cup, it's a thin one but about normal length – and very very white compared to the other brown ones. There was no mistaking it. (For the record, her big floppy comb was really quite red yesterday and paler today. I've noticed it fluctuating in the past as well so she's possibly had a few false starts/shell-less ones that have gone unnoticed, although I have been looking closely.)
I think she might have had a bit of a hissy fit while it was coming out though – one of the other eggs in the nest box was broken completely and another had a hole in it — possibly an errant claw or possibly a peck. I'll have to keep an eye on the situation but for now I'm just rejoicing – first white egg, weeee!