Supplementing our chickens' feed with free greens?
We popped to the feed store in Shipley on Saturday to buy another couple of bags of layers pellets for our girls – a sack last them about three weeks these days.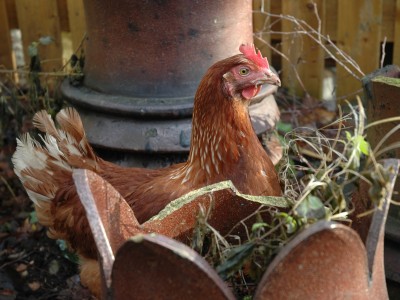 As we were paying, the owner noted that they'd gone up in price "again" – to £8.45 a 25kg bag. It's still considerably cheaper per kg than when we were getting pellets from a different store (albeit one that delivered) but thanks to my chicken keeping spreadsheets, I know they've gone up twice within six months – they were £7.80 a bag when we first bought that brand in September, then £8.00, now £8.45.
Split over price per kilogram or per day of consumption, it's not that much of a leap – about 2p extra a day, split between 7 of them, averaging just under 6 eggs a day. But it is a worrying trend — part of the general increase of prices and food costs in particular — and it's got me thinking again about how to supplement their diet for free/very cheap. It's not just about the money, it's about food security – if we can find food for them, they'll provide food for us.
Last summer, they loved the borage I grew and I also foraged random bits for them – plenty of dandelion leaves & wilted nettles as well as bits of fruit (including the dry pulp left after cider or wine making). Over winter, I'd planned to grow lots of kale and spring cabbage to keep them stocked up on greens in this scarce period – but I think I started them too late and then lost most of them to slugs anyway. I also intended to collect acorns (like Kate from Living the Frugal Life) but didn't get around to it (I just couldn't work out how to collect them in bulk in the (public but rarely used) areas where they fell, without having to pick them all up individually, then I saw someone had collected them with a rake. Genius.) As a result, their own free "treats" recently have just been occasional kitchen scraps and bundles of nettles that I dried last summer. (They do have handfuls of mixed seeds/corn too – but that's not free and will be subject to the same price rises as the layers pellets.)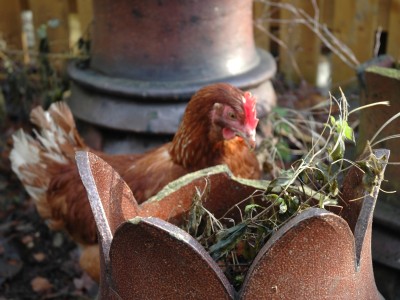 Now it's the start of the growing & foraging season again and I'm thinking about what I can try this year.

They've been doing a sterling job of de-weeding my veg beds in the new portable run – and I will actually be able to use that outside the immediate garden too — not too far but in the woodland/field next to our house when we're in the garden. That's just snacks though – not exactly belly-filling quantities – and only a couple of them at a time.
I'll collect nettles (which I let wilt before handing them over) and other edible wild leaves too – they can have the ones we don't like, although the dog insists on the monopoly on cleavers (sticky buds). I'll also definitely collect acorns later in the year now we've figured out how to do it. I'll dry nettles again too since they've been useful for not much effort.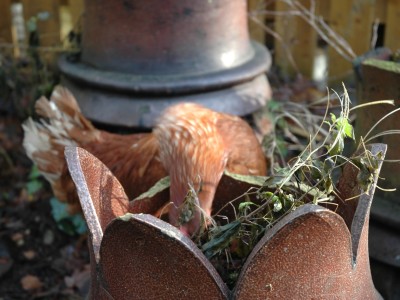 We don't have enough growing space to give over too much of the garden to growing food for them (I tried the kale/cabbage because the beds were largely empty by that point) but I'll grow borage again because it didn't take up much space and it's useful for attracting bees as well. I'd be interested in some quick-grow leaves – to fill the beds or containers during empty period without needing much work or input – but am not sure what – clover? chard? comfrey? Whatever it is needs to be cheap in seed cost and quick to grow (no more than a month or so).
Once we start to see fruit on our trees & bushes, there may be surplus/damaged stock for them. They will, of course, get brassica leaves etc during the growing year.
Another thing: we don't have any grass in our garden but some of our neighbours do – I was thinking of asking them for their lawn cuttings for the hens to pick through. I know longer pieces of grass can get caught in their crops so I'd have to make sure it was just shorter clippings.
Do you supplement your chickens' diets with free greens? Do you grow stuff for them? Any advice or suggestions?