Another scrap wood planter
It was too nice today to sit inside – a cold, dull start but warmer this afternoon with some lovely soft winter sun lighting up the trees in the wood.
We had a lovely walk in the woods at lunchtime – we took out the neighbours' year old springer spaniel as well as ten year old Lily, which was a fun change of pace. Sometimes Lily exhausts herself trying to keep up with him but today she was happy for him to run around like a crazy thing while she pottered along. We pottered too – he ran around more than enough for all of us.
After we'd got home from that, I did a quick hours work then headed into the garden to make another scrap wood planter. John's dad brings us lots of short lengths of scrap timber – the end of planks from a joiners – which aren't long enough to do much with, but I had an idea the other day for using them to make a planter – and this is the result: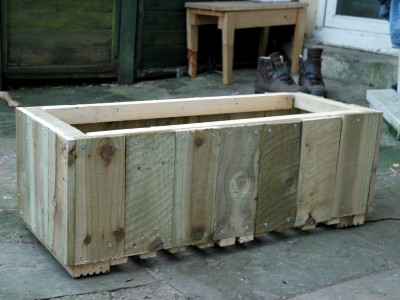 Whenever I'm doing anything with wood, I try to minimise the amount of sawing I have to do because I'm lazy (and have an aversion to sawing after having an awful saw for a long time – the current one is actually really good and easy to use). Conveniently all the flat pieces for the sides and the battens for the bottom were already cut to size – or rather, the sides were all the same size and I let than dictate the height/width of the planter, then found enough suitably sized battens to fit along the bottom. It's about 1m/3ft long and about 30cm/1ft wide & tall.
Like the other ones I've built, it's made completely from scrap – the short lengths and reusing lengths of structural timber/decking that John's dad has reclaimed/skip-dived – and I'll line it with soil bags etc so the only cost are the screws. That was not inconsiderably on this one though – I used a lot of screws! – but at least it'll double as a really small bomb shelter if we ever have another blitz. ;) If some flat wood – about 1cm by 5cm – turns up, I might use it to make a pretty lip to cover up (and protect) the top rim.
I'm really enjoying making these planters at the moment and hope to get another couple made before I need to start concentrating on planting things in them!