How I spent my Tuesday afternoon
Yesterday John's dad brought us a trailer full of wood chips for the chicken run. It's not really obvious from the picture but the trailer is just over a foot deep so this is probably over a tonne of chips.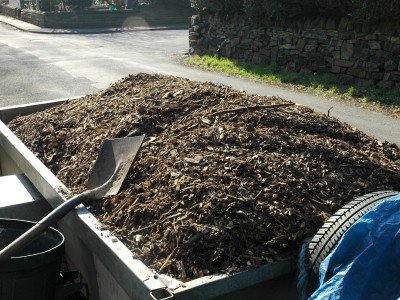 It's the third such trailer load we've had – the area where the chickens live was originally a slope, which we levelled up with rubble, then topped with woodchips. The chips both rot down and sink down so it periodically needs refilling. We filled it up before the chickens arrived, then a month or so later, and it really could have done with being refilled a month ago but it was too cold to work then.
The chips aren't expensive – about £10 for the whole trailer – but it's far from an easy job. You see, the whole garden is on a slope too. We have to carry all those woodchips, a dustbin full at a time, down these steps.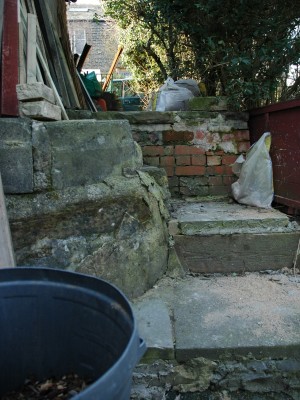 Then these.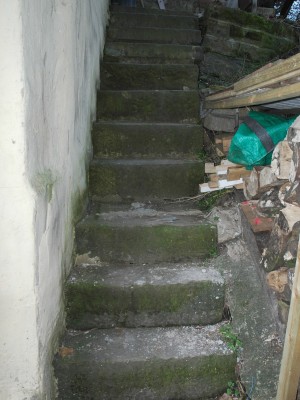 Then these.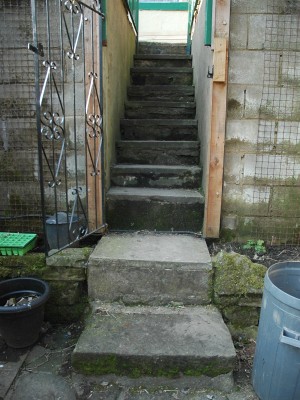 And these.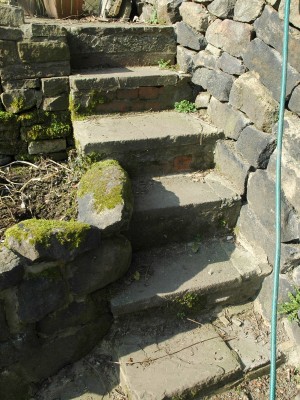 And finally these easy peasy ones.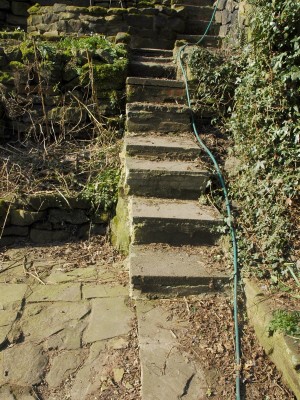 From the stream at the very bottom of the garden to the kitchen, there are 72 steps. An average flight of stairs in a home in the UK is about 14 steps so our garden stretches over five flights of stairs. My from-the-flatlands dad calls it a "a very Yorkshire garden". The chicken coop is about halfway down the garden – so, from the front of the house, it's only 42 steps or 3 flights of stairs (only!). Unfortunately it's the steeper sets of stairs – the other 30 are almost flat in comparison.
I'm glad we don't have to do it very often.
Still, I guess we should be grateful that it's not the other way around – that we don't have to drag the bins up those steps – and that the chickens seem happy with the new flooring.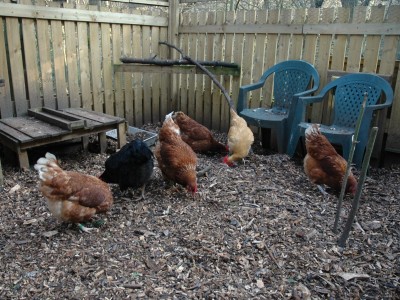 Last time we did it, the chips were hot & (pleasantly) pungent from composting and the chickens didn't like the feel of them, but this time, they were straight on and digging through for bugs and edible vegetation. As well as giving them something to dig in, the chips help water drain so it doesn't get muddy in there and also works like deep litter, helping the poo be absorbed and rot down quicker. I just hope that by next time we need to fill it up, we've installed a stair lift ;)