Potatoes, seedlings, big bulldogs & have-a-go bullycats
I've been really careful, well, kinda careful this year to not overwhelm myself with seedlings.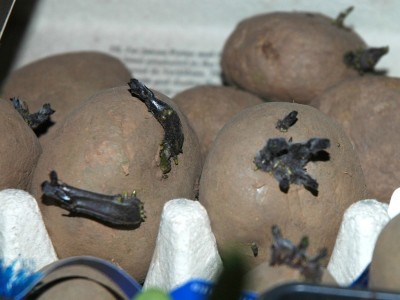 It's a bit of a balancing act, isn't it? Ensuring that you sow enough to get adequate germination and to survive the tribulations of growing into seedlings, being transplanted and being put somewhere that ninja slugs might reach them (nevermind late frost snaps, being sat on by the dog or a myriad of diseases and other pests) – BUT not sowing too many that it'll overwhelm your available resources (including time and space).
Last year, I accidentally grew way too many squash and nearly all the rest of my veggies suffered as a result – I'm keen not to make that mistake this year so have been cautious when it comes to buying and planting. Or at least I thought I had been – even though I'd resisted the cheap large bags of seed potatoes I'd seen, the small amount of seed potatoes I have bought are going to go further than I thought.
This afternoon I've planted out some Swift potatoes – which apparently provide small but very early spuds – and used up a third of my existing potato containers/bags — and I've still got another six varieties chitting and nearly ready to plant out. Admittedly I've only got a small amount of each variety but still, by my maths, I'll need at least another eight to ten containers/bags for them all. It's times like these that I really wish I had an allotment or at least beds that were deep enough/wide enough to warrant rows.
Any recommendations for potato-growing containers/bags or stuff to reuse for said containers?
I've also asked on Twitter for recommendations for topsoil and/or compost suppliers – we just don't have any spare soil in this garden and our compost heaps aren't pumping out enough of the brown stuff just yet. If anyone else has any suggestions around Leeds/Bradford or offering affordable delivery from elsewhere, I'd love to hear them :)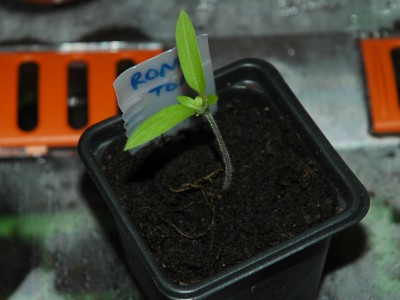 Aside from the potatoes, it's all go in my seedling nurseries – I've got stuff that needs a warm environment (tomatoes, peppers, chillis, squash, cucumber) in the propagator, and stuff that doesn't mind the cold (early lettuce, broad beans and after being reminded about them by Gillian, radishes) in the greenhouse. Lots and lots of green shoots popping up. But hopefully not too many of any one thing ;)
The jostaberry canes are planted out too – although that little job was interrupted by a big bulldog coming over to meet Lily-dog and Boron the old, toothless cat deciding he wanted to fight said big bulldog to prove his manliness or something. Thankfully the bulldog is good around cats so just tried to get out of the way of Boron's swats but a scary few minutes for me all the same!