Cold smoking cheese – taste testing the first batch
My last post about cold smoking cheese left off when the cheese was coming out of the smoker. All the guides I read recommended leaving it to rest for the flavours to develop – at an absolute minimum overnight but ideally a least a week. So I wrapped up the smokey sticks in parchment paper, labelled them and into the fridge they went.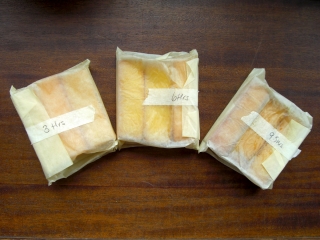 Occasionally, we'd take the packages out & sniff them but it was only today that we got to open them & dig in.
Let's first remember what the cheeses looked like to start with. There was a Double Gloucester (the orange one), and two cheddars (a mature and extra mature).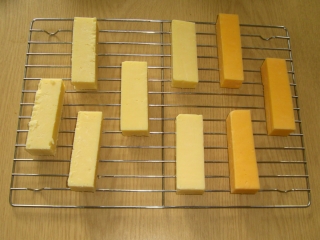 And after the smoking, they looked like this. The left most batch was in for 3hours, the middle for 6hours and the right batch for 9.5hours. Check out the colour difference!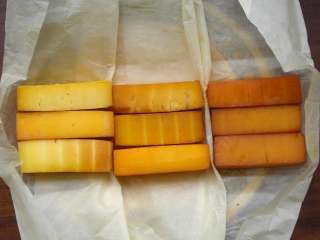 And so to the taste test…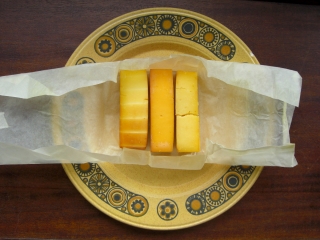 We started with the 3hours stuff as you'd expect. When we cut into it, the outside layer was clearly discoloured for 1mm or so and a little drier than normal. This held most of the flavour – the inner part was only subtly smokey. Even so, it was enough to overwhelm the Double Gloucester's delicate flavour – the cheddars still tasted distinctly cheddary in addition to the smokey rind.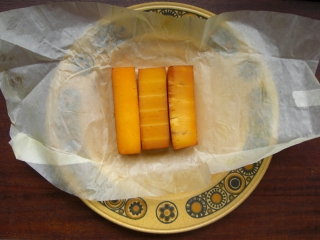 After a palate cleansing cream cracker, we moved onto the 6hour batch. The surface discolouration is obviously more pronounced on these and it permeated 2-3mm into the cheese. As you'd expect, it was a stronger smoked flavour and the outer layer was tougher – it needed some actual tooth pressure to get through the rind. By now, the cheddars were indistinguishable from each other – you could still taste the cheddariness but not the difference between the mature and extra mature.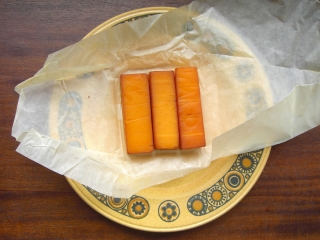 Our excitement building while we ate another sorbet-substitute cracker, we rushed onto the 9hour batch. Awesome surface colour! It wasn't until we cut them open that we could tell which was started life as a red cheese. The discolouration seeped into the cheese by a good 4mm (which is a considerable distance on these blocks which were only 20mm tall/wide) and the outside layer was rind-like & chewy. John thought the smokiness of these lessened the harshness you often get with cheap mature cheddar (which this was).
All in all, it was definitely a successful effort and we'll try it again. The Cold Smoke Generator didn't need any tending – it just kept smouldering away until all that was left was a little bit of blackened dust. A great bit of kit.
I couldn't eat a lot of the 9hours stuff – even the 6hours stuff would be almost too strong for a sandwich – but they were nice as little pieces, as part of a cheese board. I imagine they'd also be good for adding flavour to cooking, where you don't want to use a lot of cheese (if such a time exists).
Things to try experimenting with next time:
John thought it would be interesting to have bigger blocks of cheese in for longer – to see what that did to the outer layer/inside – so we'll try that. I suspect it's a longer smoking that gets Martin from Old Sleningford Farm his parmesan-like cheddar – our 9hr cheddar was getting there in terms of dry texture but wasn't quite there.
Different wood. Oak was nice but others – hickory, apple, cherry – were recommended by the smoking guides, so it'll be interesting to see the difference.
A bigger chimney hole. Apparently airflow is can impact it a lot and while there was a constant flow of smoke from my chimney hole (…not a euphemism), I think it could have been more efficient – just something else to experiment with.
Chillis. Changing the topic away from cheese, I didn't mention chillis last time – I forgot that you could smoke them and they're not mentioned in my books either. As we discovered on Sunday that five of the bell pepper plants my dad gave me in the spring are actually chillis – in addition to the dozen? chilli plants I grew myself – I'm sure we'll have plenty to experiment with in a couple of months!