A cracking start to Spring
Oh what a beautiful day!
I know yesterday was officially the first day of Spring but it was a usual sit-at-computer rush-off-to-rehearsal day for me, whereas I got out in the Spring sunshine today. I'd decided to have a day away, or at least largely away from my computer – and couldn't have scheduled it better weather-wise.
We had our first breakfast al fresco – sitting on the sun trap of a balcony. The idea of having breakfast on a balcony was one of the things that sold the house to us – the balcony faces into the woods and it's a gorgeous view, even with the trees still leafless: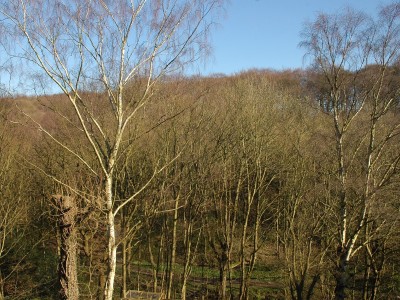 (The two horizontal strips of green at the bottom of the photo are just over the stream at the bottom of the garden – it's wild garlic. There is *so much* wild garlic in the woods – and thankfully plenty in places not often frequented by dogs.)
After breakfast, I cleaned out the chicken coop and since I was working hard, I thought some of the chickens should be busy too – I put Lime & Green to work in the portable run I made the other week, weeding one of the veg beds. They worked like troopers…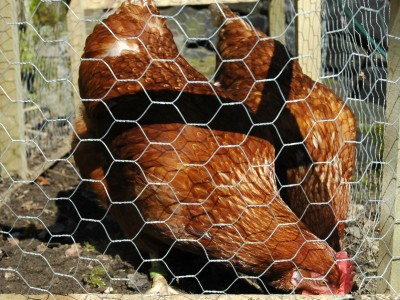 Except for when they got distracted by a dried leaf caught in the wire.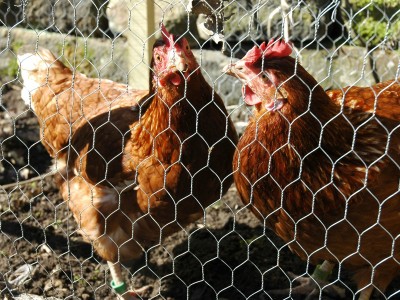 (By the way, since it was sunny, both cats wandered down into the garden, saw the girls in the portable run, thought their luck was in so crouched down – then realised the chickens were a. bigger than them b. had sharp beaks and c. had bigger claws so slunk off to continue their sun worship elsewhere. It was funny to watch them go through the exact same actions.)

Usually when I'm cleaning out the coop, Lime & Green are the girls to get in my face but since they were elsewhere, Blue and the usually shy-ish Mrs Mauve took over instead. (Phone pics so poor quality, sorry). Blue kept a close eye on my litter shovelling: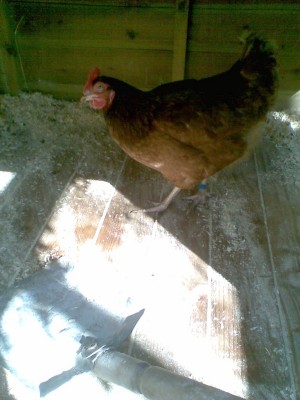 And while I was bent over doing that, Mrs Mauve decided to jump up on my back.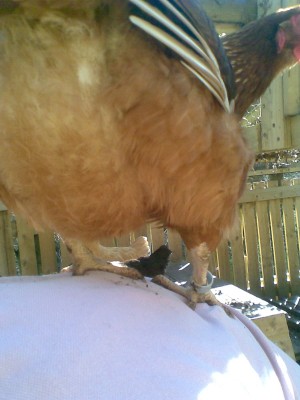 Yes, that is a pile of poo. I was so glad I was wearing a scruffy t-shirt!
After I was done (and de-pooed), I cleaned up and hung out a load of laundry – some bedding. I wouldn't mention this unexciting occurrence except I wanted to note that we stripped the bed at 9am, the washing cycle took 2hrs 10mins, I pegged it out about five minutes after the cycle finished – and it was dry by 12:30. All hail solar-powered drying!
I let Lime & Green free-range for a bit while I was pottering around the garden – in the excitement of it all, Green momentarily lost her head: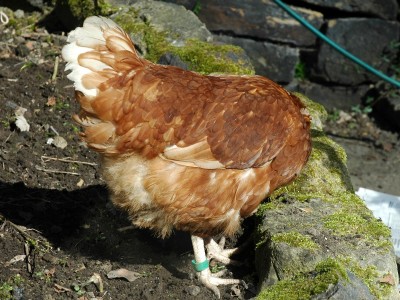 But soon found it again once a juicy worm popped into sight.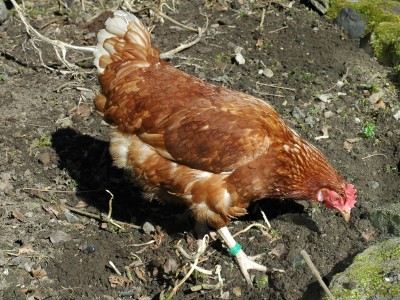 I wish I could let them free-range in the garden more often – possibly when we have it properly enclosed (it's open to the neighbour's garden on one side at the moment). Their behaviour at the end of their playing out session was very encouraging regarding this actually – when I returned to the run, first Lime then Green flew about 5-6m to follow me in – I've not seen them fly so far before, made me very glad the run has a roof!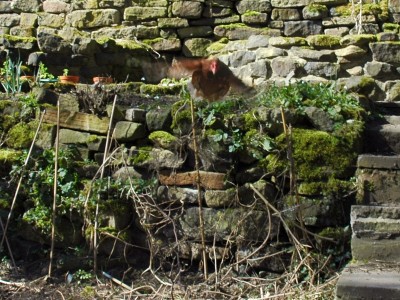 After lunch, I focused on greenhouse stuff – sowed lollo rossa lettuce, mixed salad leaves, sorrel, leeks, some sage & two lots of tomatoes (like Cottage Smallholder Fiona, I've been having damping off issues in my propagator so I needed to start some more). I also pricked out/planted on some tom thumb lettuces, some winter gem lettuces (should have been almost ready by now really but they will be done in a few weeks at this rate) and my second lot of cucumbers (first lot also succumbed to damping off issues). I contemplated planting out my beautiful broad bean seedlings in my newly weeded bed but I think I'll make some cloches for them first.
All of those new seed trays/seedlings meant I needed to make more space in the greenhouse so I rearranged some stuff – booting some overwintering fruit bushes out into the outside world – and while I was doing that, also cleaned down all the glass inside and out. Been meaning to do that for a while and the colour of the water in the bucket made me very glad I did!
We had a walk in the sun dappled woods with Lily-dog then I finished off making my new scrap wood plant stand (all to be revealed tomorrow!); now a decent soak in the bath then a curry with a friend we haven't seen in ages. Between a sore toe, knee, ovary and sinusitis making my ears wobble, I nearly decided to have a computer day after all — but I'm very glad I pushed through the pain as it's been great fun :)
Have you been up to anything fun today?