Shopping my wardrobe for shirts
Last night, I decided to go shopping in my wardrobe for shirts.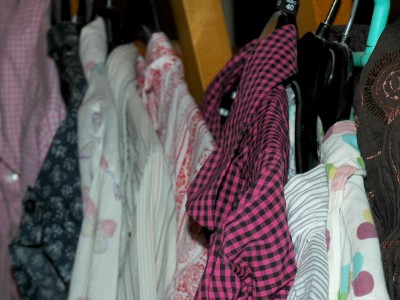 It's about five months since I bought (or acquired by any means) any items of clothing or related apparel. The less than 12 in 11 challenge has been easier than I thought in many ways and my tally for the year is still zero – but recently I've been getting a bit more tempted towards breaking that embargo. After the long winter, I'm a little bored of my warm woollie options (or rather warm cotton hoodie options) and lately I've been getting a bit meh about my selection of my Spring-suitable tops too. A couple of weeks ago, I sorted out my chest-of-drawers drawers, which was great for refreshing my memory about my t-shirts and last night it was the shirts in the wardrobe's turn.
I had 29 shirts & blouses in my wardrobe and another one in the wash. How many of those 30 shirts have I worn in the last month or, hell, the last three months? One. The one that's in the wash (I've worn that all of twice). Admittedly it's not really been light-cotton-shirt season of late and I don't have anywhere that requires me to be smartly dressed but still – that's a lot of shirts for someone who doesn't wear shirts much. Ten – one-third – of the shirts were solid black from the days when I wore solid black shirts as a work uniform and standard going out wear. No one needs ten black shirts. Last night, I dragged them all down into the living room and tried them all on in turn (giving John a free boob flashing floor show at each iteration).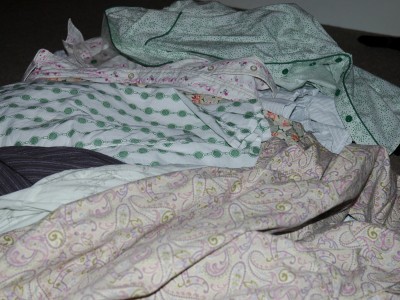 Of those 30 shirts, 14 straight up didn't fit. They were either too short (especially as I wear my jeans low) or didn't come close to closing around the boobs (I've got somewhat large sweater cows), or both. I think I'd kept at least half a dozen out of wishful thinking – because I love the patterns so much and won't be able to replace them. The one at the back of the picture above with green stars on it hasn't ever been worn because not only was it a little snug upfront, the arm holes were blood-pressure-band tight on me. (Having said that, it's a lovely, lovely shirt – if anyone wants it, let me know and I'll post it out. It's a size 14 and there is a bigger picture here.) Those shirts will go to charity shops or into my crafty fabric stash depending on re-wearability/pattern.
Out of the remaining 16 shirts, two need repairing (button replacements) and five need to be worn over a vest top or under a jumper. Nine – less than a third of my shirt collection – were fine — they fit and I still like them.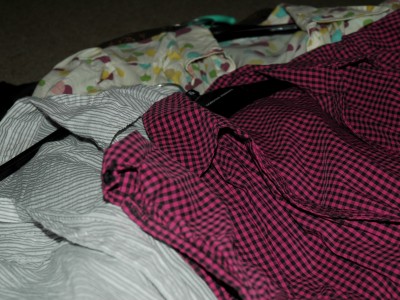 Getting rid of nearly half my shirts might not sound like "shopping" but it was really useful to go through them all and remind myself what I have (I'd straight up forgotten about at least three of the keepers), and what they look like/how they can be worn. I think I'd stopped even thinking about wearing shirts because it was depressing to look in my wardrobe and see so many that didn't fit or couldn't be worn as they are for whatever reason. Looking at it one way, I'm losing near half my shirt collection; looking at it another way, I just gained nine new shirts ;)