Wild garlic and serrano ham pizza – mmm!
We had wild garlic and serrano ham pizza for dinner last night. Our friend Strowger has repeatedly advocated wild garlic seed pods on pizza after we both pickled some last year but I hadn't used the leafy stuff on pizza before.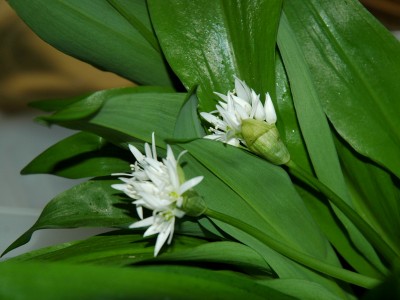 I won't do a full recipe – since I would have thought just about everyone reading this will have their own preferred dough & sauce recipe – but I will say I collected a large handful of wild garlic (Ramsons) leaves, which weighed about 50g including stalks – although I didn't actually use any of the stalks on the pizza — they got sliced off and nibbled while I was cooking :)
I sliced the washed leaves into ribbons and wilted them slightly by frying them very lightly (30 seconds or so) in a drop of oil to mellow the flavour slightly, then immediately put them onto my prepared pizza. I paired it with serrano ham since that's got enough flavour to hold its own against the WG – and added some flowers afterwards for prettification purposes ;)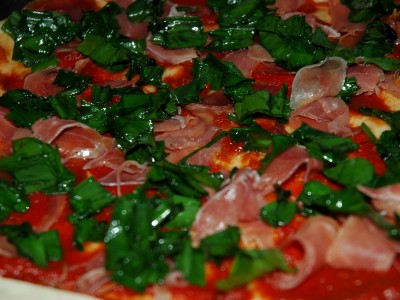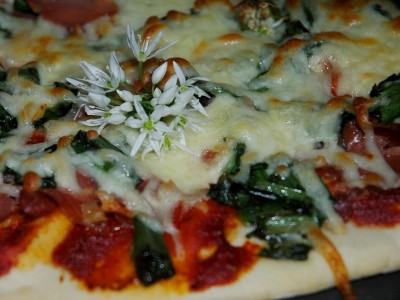 And the verdict: well, the short version of thoughts is in the title for this post ;) John said it didn't taste like any pizza he'd ever had before – but that wasn't necessarily a bad thing. I thought the wilted texture was perfect – very soft without being slippery – and the flavour more developed than the sharpness of raw wild garlic.
Next time, I'm almost tempted to leave off the ham though (it was still there but not the star of the show) and just have some different cheese and perhaps some ricotta or sliced mozzaralla – basically a more intensely flavoured spinach-and-ricotta style pie.