From pelmet to planter
Yesterday, we went to see John's mum & dad, and spotted that one of their neighbours had put a fancy (curtain) pelmet out on the street in front of their house to be taken away – either by John's dad (who they know is a salvager of random things or by a scrap person). I thought it looked pretty sturdy so bagsied it instead.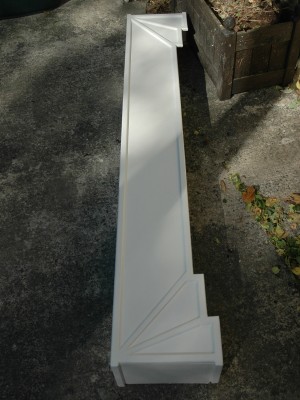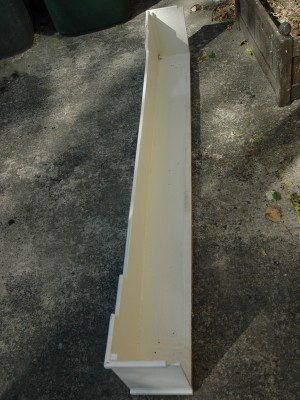 A surplus plank of wood and four screws later, and I had a pretty new herb trough :)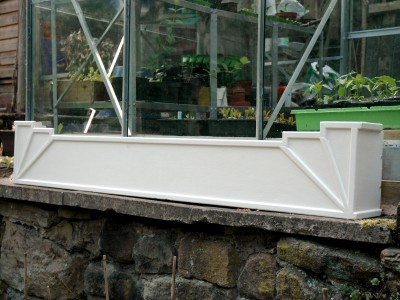 The original plan had been to wall mount it (I had some old brackets that would work & look nice, and it would save having to add a back piece to it) but it turned out that because of a supporting fence post, it didn't fit where I'd hoped to put it. It does though fit perfectly on the little ledge behind the greenhouse.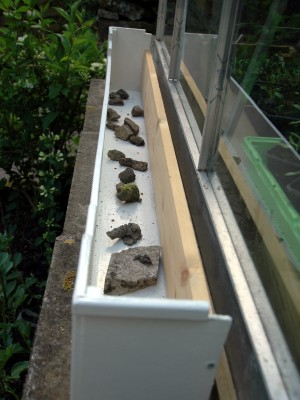 I've drilled some drainage holes in the bottom and will add more rocks-as-crocks to stop it getting waterlogged (if it ever rains). As I've mentioned before about that ledge, it's not *that* accessible in the summer so I can't use it for things I need to pick regularly – but it will be good for companion plants & not-picked-often herbs. It's not massive — 5ft long, about 8inch deep and about 6inch wide — but it'll make a bit of use of some otherwise dead space. Plus, I think it looks pretty cool :)
And weee, another freebie :)