We *heart* books too (warning: picture heavy post!)
Last week, Swirly Arts' Lynsey wrote a blog post called "we *heart* books" and included photos of the many, many books around her house. Well, we *heart* books too so I thought I should do a similar post ;)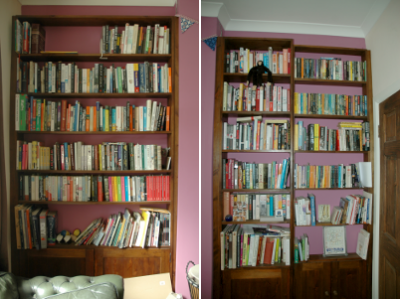 It's a very picture heavy post so people on slow/expensive-per-MB connections may want to skip it! People who like perusing other people's bookshelves though should probably settle in for a long session (all the pics, except for that first one, can be expanded if you want to nose properly ;) )
(And probably much to the annoyance of my mum, I didn't tidy or dust at all before taking these pictures ;) )
So let's start in the dining room. One of the first jobs we did when we moved in was have the above fitted shelves installed either side of the fireplace. They're one of my favourite things about the house (and they do match, even if they don't look like they do in the above pic!).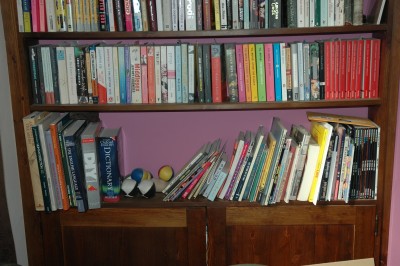 Bottom: random oversized books and graphic novels/comics. Top: some of my fiction, grouped by genre, author or publisher. (I love the colours of the TC Boyle ones!)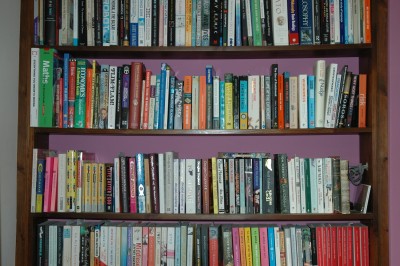 Bottom: more novels – the Coupland collection (yes, I have six copies of Microserfs…), Palahniuk, and misc. Above that, misc non-fiction (mostly John's).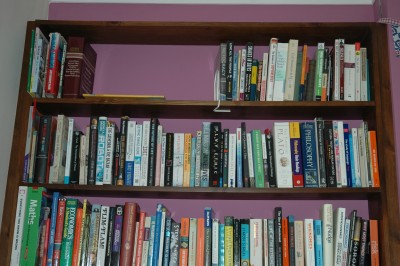 More misc non-fiction, both of ours, and some empty space – gasp!
The other alcove is divided into two as one part is behind a door. Simple living type books, history non-fiction and misc (mostly mine).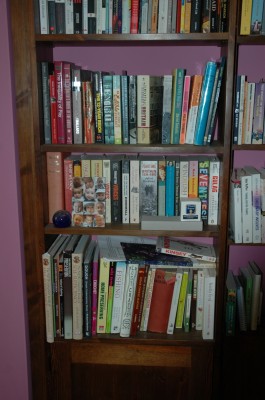 Above that, mostly sociology (typically mine), philosophy, politics and hippy Buddhist stuff (mostly John's).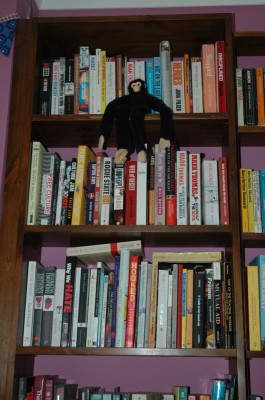 On the other side, lots and lots of SF – science & speculative fiction, with some wilderness-living books at the bottom (mine). The lowest SF shelf is mostly Wyndham, and they get trashier as they go up ;)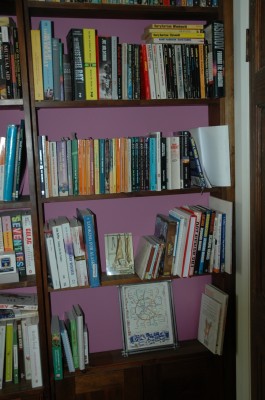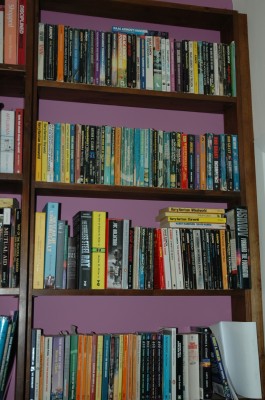 See what I mean? ;)
In the dining room, there was also a small pile of books on the table – two library, two not library: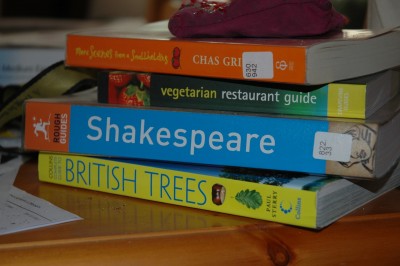 In the living room, there was a similar pile of some library, some not — we don't really have any shelves in there though so that's it for the living room.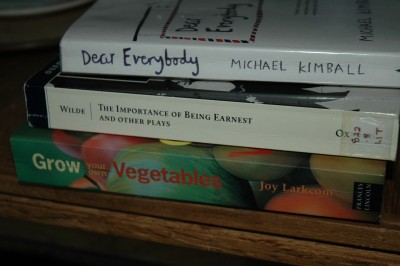 Up to the bedroom, we both have sizeable piles on our bedside tables. Mine: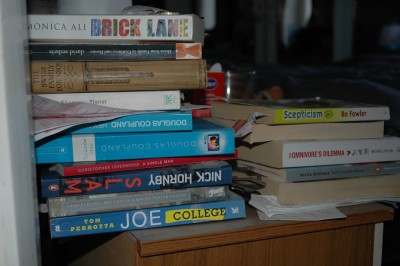 And John's. (He'd hidden the bigger pile in a drawer rather than putting them away properly, the pesk ;) )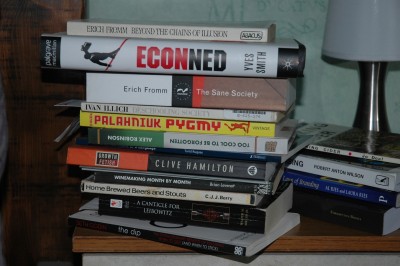 In the bedroom, we've got a whole wall of bookshelves — pretty much all the shelf space the last people had. As we've got the dining room space, it's not as full as it might have been – lots of room for expansion ;) I didn't take a picture of the whole wall as it would have shown what a mess our bedroom is (with all the bathroom stuff still in there) and it might have made my mum cry. The bedroom shelves are pretty much all fiction of one sort or another, and not really organised at all: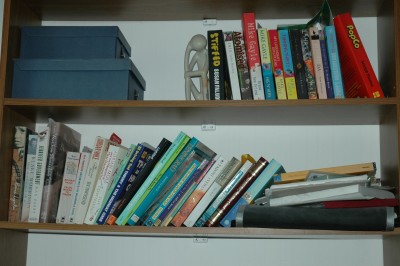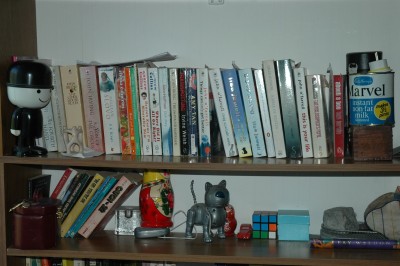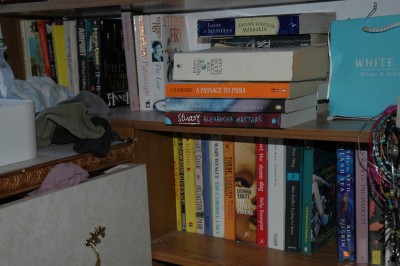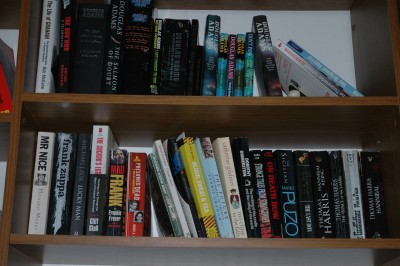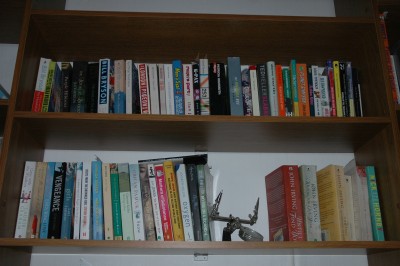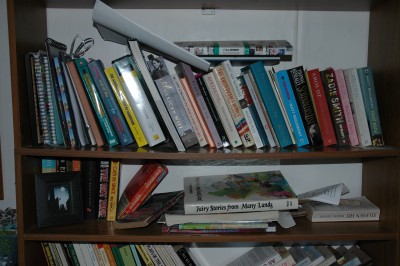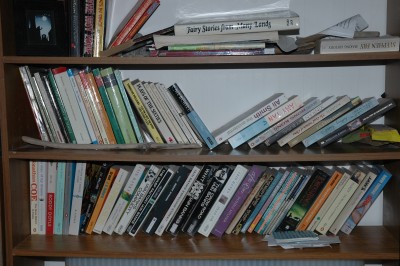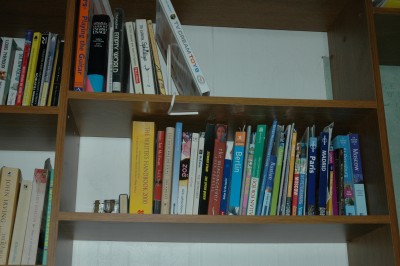 (The eagle-eyed will notice that there is a World of Warcraft players guide in with the travel books – a coincidental placing when we unpacked but we liked the idea so left it there ;) )
The turn of the landing is a small room in its own right – the last people had it as a mini office and we're going to have it as a quite reading space when we get around to thinking about that. At the moment, it's home to techie books and some of my old uni books.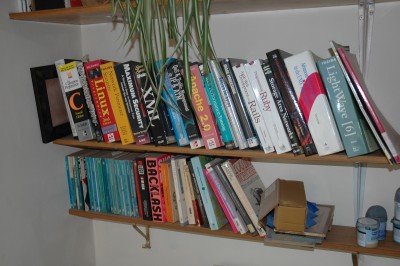 I've got a couple of boxes of old uni books on the top floor (our spare room) still to unpack too.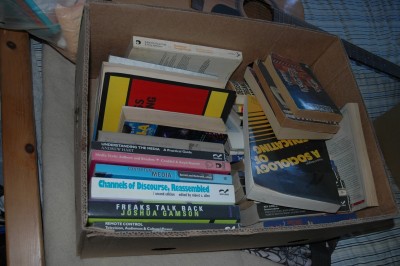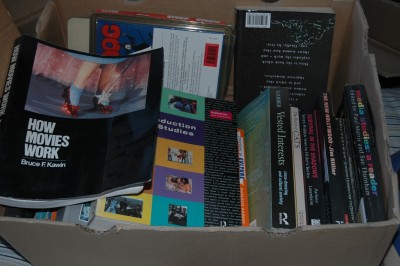 Running back downstairs, we've got a box of cook books in the kitchen. (It lives under our root veg wire tray in the pantry, hence all the onion skins.)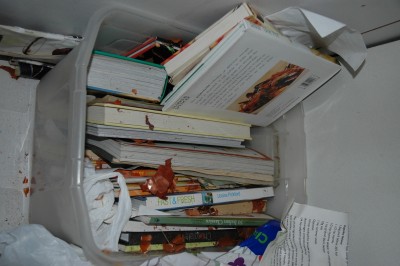 And finally, I've got a stash of books in my office desk drawer – which shows what I'm thinking about when I should be working ;)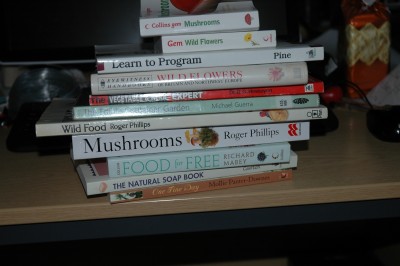 Looking at it like that, we do have quite a few books! I'd say more than half are from charity shops/second hand but still…
I'm like Lynsey – I don't see having a house full of books as a problem but know that some people (hi mum!) disagree. I am trying to slow the expansion though and try to get rid of one book for every two books brought in. The amount of books we buy has certainly slowed over the last 18 months – we go charity shopping less and Borders closed down (our prime random browsing shops) so we tend to only buy things we really want to read. The trouble is we like lots of different subject areas!
Are you a bookaholic too?