Bad Buys: the garden swing
This will be an occasional series of posts documenting my worst buys over the years and why they were a mistake. I hope it'll help me – and other people – learn from my mistakes.
When we moved into our new house last autumn, there was an old garden swing cemented into the patio in the garden. My mum and dad had a similar swing for a few years when I was a kid – a white metal tube frame with big puffy plastic-coated cushions – and according to our photo albums, our family lived on it in the summer. John wasn't keen on the swing here though because it looked rickety, somewhat knackered and in white, stood out against the natural colours of our garden – but I thought we might as well use it since it was there. Maybe play up the retro – brighten up the white & cover the dated floral cushions with a red polka dot design. It was put on the list for "things to do over the summer" and forgotten about.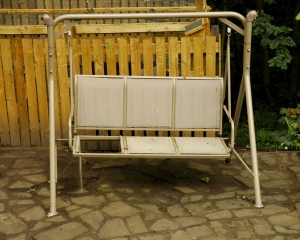 Then a (used) swing popped up on my "around here and cheap" eBay search. In a mushroom-y beige colour, it wouldn't stand out so much, it looked more solid and best of all, it was more practical because the seats were the plastic mesh, meaning we could use it without having to climb two flights of stairs to get the cushions. It was £30 and only a short drive away. We 'bought it then'. At no point did we ask ourselves whether we actually wanted a swing – we were just hell-bent on replacing the old one with a better one than the one we had.

Pleased with ourselves, we brought the swing home and set it up. It looks wonky in the picture but it's actually the ground – the swing was fine. Then John decided to test it for strength by bouncing up and down on one of the seats as hard as he could. The way he fell through would have been hilarious if it hadn't been in the first minute of the swing's life with us. "Nevermind, nevermind," I said, "I'll fix it and in the meantime there are two other seats."
It's two months on and I still haven't fixed it. We've sat on other seats occasionally but … it turns out we don't actually like swings that much. When I sit on it, with a laptop or cat on my knee, I plant my feet on the ground so it doesn't move around, leaving me far less relaxed that I would be on a chair or bench. John's lain down on it a few times but says the metal supports between the seats are uncomfortable and if he was going to do it again, he'd have to take the old cushions down to use with it. Its A-frame also takes up a lot of space – getting in the way on our way into the chicken enclosure and the path down to the bottom of the garden.
We'll probably end up giving it away on Freecycle and getting a new-to-us/used bench instead. As it was already secondhand, no resources were wasted (other than the petrol for our short drive to pick it up) but still – what a waste.
Lesson learned: It's an obvious one but think about purchases more before we buy them. Here the question should have been "yes, it's better than the existing one but do we actually want one?"