First half of 2011 spending breakdown
After the one I made for my June spending at lunchtime, I'm in a graph making mood so I've made one to show (myself) where my money has gone in the first half of 2011.
Here's said graph: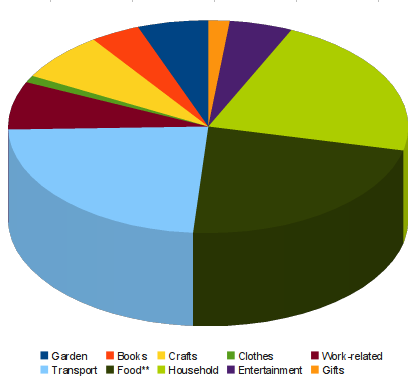 And here's the details in a table:
| | | |
| --- | --- | --- |
| Category | Spent | Percentage |
| Transport | £350.20 | 24% |
| Food** | £339.14 | 23% |
| Household | £326.73 | 21% |
| Crafts | £110.63 | 7% |
| Work-related | £109.15 | 7% |
| Garden | £85.73 | 6% |
| Entertainment | £76.59 | 5% |
| Books | £60.15 | 4% |
| Gifts | £25.84 | 2% |
| Clothes | £15.97 | 1% |
(** Takeout food and restaurant bills; my share of all bills or the total bill if I paid for everyone.)
Inspired by Shoestring Alley, I started tracking my spending at the start of the year and decided to record everything I spent "frivolously" – ie. not core bills or to-be-eaten/prepared-at-home food, but everything else. I wanted to start doing it to make me more conscious of my spending habits – to see where the money goes and to know that if I buy something silly/completely frivolous then I still have to hold myself accountable over it. A tool to help me reduce spending & consumption across the board.
It's really worked – I've spent far less money on random things than I ever have done before. I'm actually really surprised how low "books" is as back when I was working full time, I could easily spend that on books each month and I got my money's worth out of my book buying even then. (Disclaimer: most of the work-related stuff is books too, but books I wouldn't ever buy or read if I didn't need them – I would NOT be reading Shakespeare if I had a choice in it! ;) )
Apparently it takes just over two months to form a new habit and I think in the last six months, I have formed a habit of being conscious of my spending and not giving into temptation/the desire to buy things. Over the last month in particular, I've not spent a lot (by my previous standards) of frivolous money but I've not in any well felt hard done by, which is good, because that could lead to binge spending. There is still room to easily cut down – on lazy/convenience food, on pretty household stuff (related to us still settling in/decorating our house), and on craft supplies – but aside from food & travel costs, I'm pretty ok with it.
Do you track your spending? Do you find it motivating or restrictive?