The last of the marrows
On Saturday, I harvested the last of the marrows – just under 10kg in total. We'll get some more courgettes yet – a dozen more or so at least – but they've slowed down their production enough that we'll keep on top of them now so no more massive ones.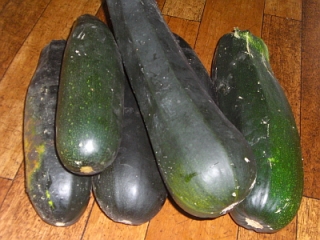 I decided to bring them in because a couple of their compadres had started going soggy (the non-soggy bits went to the chickens) and I thought it would be better to use them, not lose them.
We've probably had another couple went chickenward earlier in the year, and we've picked probably four or five marrows to use ourselves (for cakes, jams or actually as a vegetable) or give to others. It's crazy to think we've possibly had 15-20kg of produce in marrows along – let alone all the courgettes we've had over the last few months!
My plans for these guys: chutney, chutney, jam and more chutney; and also more marrow cake to freeze – storing the marrow & summer egg glut together as one tasty cake!