75% off seeds at Wilkinsons
It feels a bit early (in general and earlier than last year) but various shops have started selling off their sow-by-2012 seeds cheaply.
I was near a Wilkinsons yesterday (I heart Wilkinsons – I nearly wet my pants when they opened a big store down the road from our old house in Leeds and it's one of the things I miss most about living in Leeds. #sadconfession) and popped in to peruse their packets — all 75% off in store (they seem to be 3 for 2 on the website). I went a bit mad at first and ended up putting about a dozen of them back but I did buy…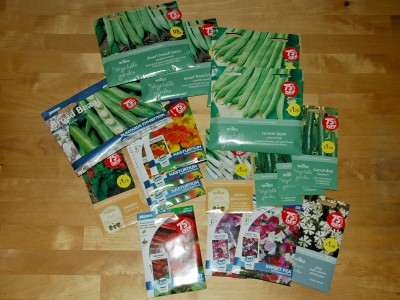 That's:
2 x dwarf french beans (Canadian wonder – 120 seeds per pack) = £0.25 a pack
2 x runner bean (white emergo – 40 seeds per pack) = £0.32 a pack
1* x broad beans (Bunyards exhibition – 50 seeds) = £0.56 a pack
3 x nasturiums (trailing single mixed – 35 seeds per pack) = £0.49 a pack
1 x onions (bunching ishikura – 375 seeds) = £0.32 a pack
1 x pepper ("sweet" mini red – 50 seeds) = £0.32 a pack
1 x beetroot (boltardy – 275 seeds) = £0.37 a pack
3 x cucumber (telepathy F1 – 5 seeds per pack) = £0.39 a pack
1 x phlox night scented (200 seeds) = £0.32 a pack
2 x sweet pea (mixed – 25 seeds per pack) = £0.56 a pack
So 17 packs of seed for £7.35, rather than nearly £30 – I'm quite happy with that.
* I would have bought more of these even though they're branded so more expensive, but this is all they had
Combined with the (18) free packets I've collected one way or another this year, and what I've haven't used this year and the seeds I'll save from my Real Seeds purchases this year (achocha, special peppers etc), I think I'm about all set on the seeds front for next year already – perhaps some more broad beans (as they've been fab this year), some courgettes (as I don't have much luck saving seeds due to being hybrids/cross-pollination, and we heart courgettes) and some basil, but that'll be it. Hurrah! :)
Apparently Dobbies and the super cheap supermarkets (Aldi/Lidl etc) are heavily discounting their seeds at the moment too.
Have you started buying seeds for next year too? Have you spotted any other seed bargains out there?