Is it easier to be super frugal as part of a couple or as a single person?
I was thinking about this question the other day – is it easier to be super frugal as part of a couple or as a single person? – but I think I should immediately clarify that while I'm interested in hearing people's thoughts on it, I have no intention of leaving my lovely boyfriend if single "wins"! :)
It generally is cheaper, of course, to be part of a couple – often two incomes coming in but many living costs don't go up (or don't go up that much) so regular outgoings on bills are roughly halved. Two people who like spending time together don't generally need a bigger house/flat than one person; insurance costs don't really go up when there are two of you; utility bills might go up a bit and council tax will go up when you lose your single person discount – but since you're sharing it, you'll be paying less overall.
But while it's cheaper in general, in my experience, having to consider the other person in the relationship can make it more difficult to be frugal in other parts of your life. I've noticed that when the two of us are home at the same time, we're more likely to put the heating on/light the stove than if there is just one of us there (especially if that one of us is me). Similarly, our meals tend to be more extravagant when we're both eating than when we're dining solo – dinner becomes an event which necessitates a proper meal rather than just quick'n'easy snack that will more than suffice. Similarly, John doesn't expect for me to live in a fashion show but I think I'd probably be even scruffier/pyjama-clad around the house than I am now if my only audience was feline/canine.
John and I are generally on a very similar wavelength when it comes to (not) spending money and that sort of thing but, for example, he buys more expensive bacon than I would or is more likely to put the heating/stove on before me when it's chilly (he'll put a jumper & socks on first, of course, but I'd be more likely to get under a blanket too). I'm fussier when buying home furnishings (fabrics, colours etc) so spend more money on that sort of thing than he ever would. John also earns considerably more than me (because he's in a higher paid profession and works more hours) but even though we largely pool our money, our income disparity means we have different opinions on what is affordable and what isn't because the same amount of money represents a lot more time worked for me than it does for him.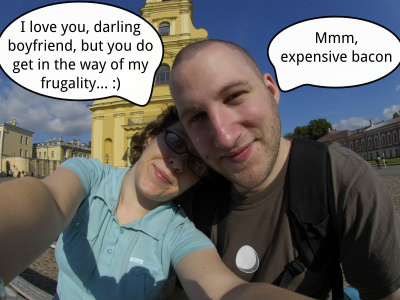 Basically, I think we're both much happier to "make do" when we're home alone. When both of us are here, we settle at a higher unspoken comfort level to possibly avoid upsetting the other unnecessarily.
That might just be us though – I'd love to hear what you think from your experiences.
If you're in a relationship/have a family at home, do you & your partner/kids have the same frugal outlook? Does it cause any problems? Do you have to compromise on anything? If you have different frugal levels/requirements, how do you make it work?
If you're single, do you have any habits that you think you'd change if you were living with someone else?